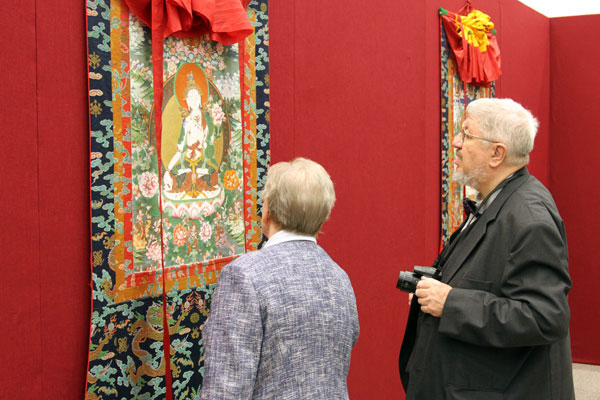 Viewers are staring at a thangka painting at the "Color of West China" exhibition held in Frankfurt, Germany on May 23 [Photo/Xinhua]
"The Color of West China" thangka and photography exhibition opened in Frankfurt, Germany on May 23.
As a part of the "2016 Experience China - Cultural Exploration of West China" series cultural events, the exhibition displays more than 130 photographs and 30 thangka paintings which reflect the natural scenery and traditional culture of West China.
"As an encyclopedia of Tibetan art, the thangka painting is an important vehicle for Tibetan culture to communicate with the world," said Song Ming, one of the curators of the exhibition.
"I was impressed with the artistic style of thangka," said a German visitor named Sigizmund, "It's amazing that the process of creating a thangka painting requires 15 months."
Liang Jianquan, the Chinese Consul General in Frankfurt said that these thangka paintings were the treasures of Chinese culture. He hopes that the exhibition will help German friends to gain a further understanding of the culture of the western part of China.
The exhibition is co-organized by the State Council Information Office and the Chinese Consulate-General in Frankfurt, lasting 6 days until May 28.