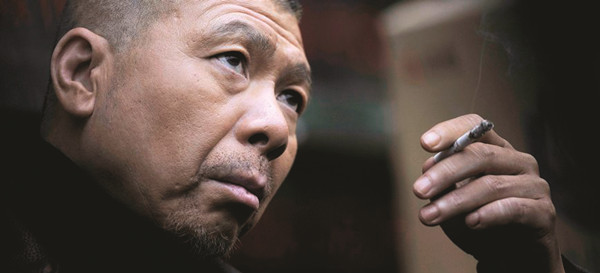 Mr Six, starring Feng Xiaogang, wins this year's "dirty astray award" due to its scenes of excessive smoking.[Photo provided to China Daily]
Feng Xiaogang's film Mr Six was recently declared the top winner of this year's "dirty astray award" by the Chinese Association on Tobacco Control.
Since 2007, the annual mock awards event is being held to focus attention on Chinese films and TV series that show scenes of excessive smoking. Beijing banned smoking in public places last year.
The hoodlum-themed film, which was released in January to both box-office success and critical acclaim, has 102 scenes featuring characters who smoke cigarettes, accounting for 6.3 percent of the 136-minute feature, according to the association.
Last year's winner Gone with the Bullets, a hit film starring Jiang Wen, features 45 smoking scenes.
Alongside Mr Six, last year's hit TV series Lady & Liar, chronicling a female thief's adventures in the 1930s, won the same award in the TV section this year. It has 56 smoking scenes, making for roughly 0.2 percent of the 46-episode series.
The "honors" have never been claimed by the winners.
Xu Guihua, senior vice-chairwoman of the association, says this year's winners were selected from the most popular 30 films and 30 TV series of last year, based on box-office receipts or TV ratings.
The awards are given to only Chinese productions.
With 23 smoking scenes, The Dead End, a crime thriller, took the second slot in the film category this year, and war epic The Hundred Regiments Offensive was third with 20 scenes.
The three films together contributed nearly 58 percent of all smoking scenes in the 30 films selected for the category.
Xu says stars smoking cigarettes on screen have a negative influence on audiences, especially young people.
More than one-third of Chinese teenagers start to smoke after watching celebrities do so either on the big or small screen, and the general acceptance of smoking among the youth increases multifold when the youth watch their idols smoking in films, Xu says, pointing to research.
"Artworks are inspired from real life, but should promote a healthy lifestyle. Smoking is harmful to health and is linked to many illnesses, such as cardiovascular diseases," says Hu Dayi, the association's chairman.
China currently has 300 million smokers.