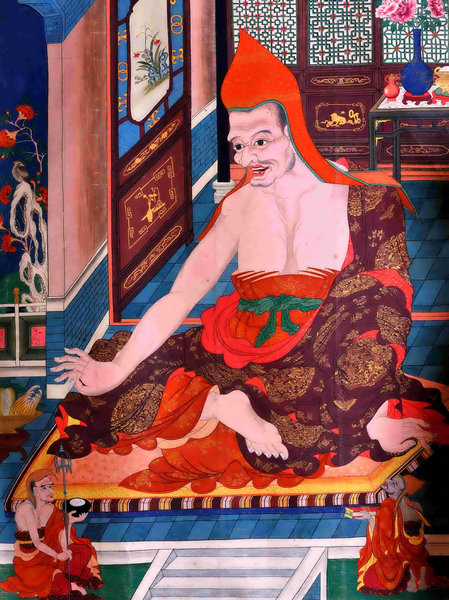 Athangka painting by legendary Tibetan painter Namkhagyan is among exhibits at the ongoing Beijing show.[Photo provided to China Daily]
Legend has it that about centuries ago, Namkhagyan, a master of Tibetan thangka art, suddenly learned how to paint with a pen given by a Buddha in a dream.
Later the boy, who used to look after cows on a mountain, became one of the most famous thangka painters and his works were celebrated even in the Potala Palace in Lhasa, the capital of the Tibet autonomous region.
Ten of his works are now on display in Beijing, the first time they have been taken out from the Shouning Temple in Luhuo county in Southwest China's Sichuan province, where they have been revered by followers for about 400 years. To ensure the safety of Namkhagyan's paintings, five lamas from the temple escorted the master's works to Beijing on Saturday. They will stay with them through the show that closes on Thursday.
The painter's real name has been forgotten because he was always known as a Buddha-turned painter, or Namkhagyan, which in Tibetan means sky painter as the colors of the sky in his paintings are unique.
"Namkhagyan's thangka works are more creative than the traditional ones. They use techniques from Western painting, like perspective, and painting in an elaborate style from traditional Chinese painting," says Losang Changchub, a 68-year-old thangka painter who studied Namkhagyan's painting style in the 1980s.
The lines and colors in Namkhagyan's thangka paintings reflect the spiritualism of the Tibetan people and the exchanges between Tibetan and other cultures, says Nyima Tsering, a well-known Tibetan painter from Beijing.
As an exclusive Buddhist art form, thangka has many restrictions on subjects and how they should be drawn. But Namkhagyan tried to be different even with the restrictions, say art critics.
The Namkhagyan masterpiece on show, Nirvana, is different from the works of other painters who tackle the same subject.
Losang Changchub says Namkhagyan's work is full of deities and Buddha figures while the works of other thangka painters are typically full of buildings surrounded by people dancing and singing.
Losang Changchub, who once worked for an art museum in Namkhagyan's hometown in Luhuo county, a Tibetan area in Sichuan, began to learn Namkhagyan style of thangka painting from a lama in 1980.
He marvels at the master's technique of painting tiny figures, saying he has to use a magnifying glass to find the deities on Namkhagyan's scrolls.
For instance, there are almost 880 deities on Namkhagyan's 1.5-meter-high thangka work Nirvana.
Praising the master's effort, Losang Changchub says: "I think it's because at the time, the master could easily devote himself to painting and not get distracted by the outside world. It's very hard for us to do so now."
In ancient times, a good thangka painter had to be a knowledgeable and devout Buddhist.