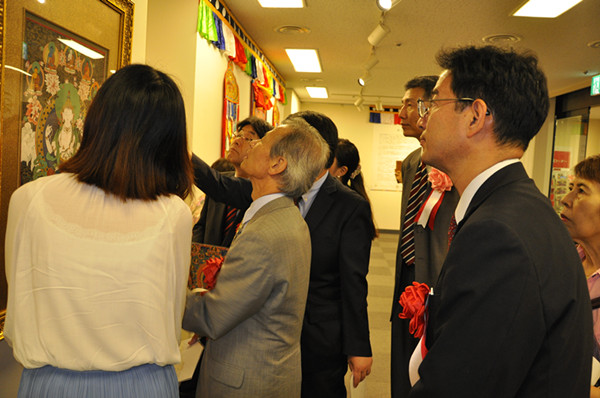 Guests view the exhibits[Photo provided to Chinaculture.org]
Presented by the Shanghai Municipal History Museum and co-sponsored by the Tokyo China Cultural Center, the Tibetan Thangka art exhibition opened in Tokyo on July 6, 2015.
It exhibits 30 Thangka works based on four themes: Buddha and Bodhisattva; Vajra and Dharmapala; Avalokitesvara, Tara, and Devakanya; Guru and eminent monk. Creators also range from gurus to master classes.
More than 60 people attended the opening ceremony. Notable attendees include the Cultural Counselor of the Chinese Embassy, Chen Zhang, the Japanese House of Councilors representatives, Satuki Eda and Tian Hexing (Kazuyuki Tachi), and the President of the Tokyo Association of Chinese residents Liao Yayan.