A group of diplomats from 15 countries travelled from Beijing to Inner Mongolia from June 25-28 to explore the history and culture of the grassland during the third Cultural Discovery Tour initiated by Chinese Ministry of Culture.
This is a rewarding tour for each member of the delegation. Here is what they said about the tour.
Russian Federation counselor, Victor Konnov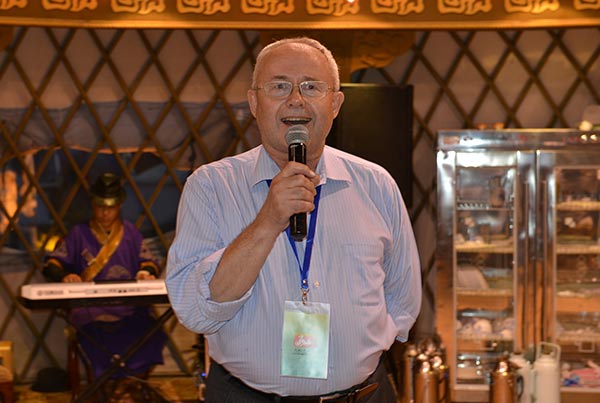 Russian Federation counselor Victor Konnov. [Photo/chinadailyl.com.cn]
First of all, I would like to thank the local government, the Inner Mongolian government for your hospitality, for the whole wonderful displaying of our tree. We spent almost four days here. And for many of us, for the majority of us, it was our first trip to Inner Mongolia, including myself. And as for me, it is very difficult now to summarize all my impressions. But first of all, I'd like to say I can imagine how big the Inner Mongolian region is. It has more than 24 million in population. And it is more than 1,200 thousand square kilometers, if I am not mistaken. And what is most important is you who blend these and make one wonderful, great combination of old traditions and more modern civilization.
We visited the Genghis Khan museum, several other museums and theatres, and an art centre just now. From this part of our trip, we can understand better your traditions, you deep roots, because Inner Mongolia is one of the world's greatest civilizations in history. And on the other hand, we had the possibility to see modern industry, a thousand technology parts, for example, "Yili" industrial group, where you produce milk and dairy products. We were very impressed by this modern technology. And especially here in Ordos, we were very impressed by you and modern buildings and growth. Many were built maybe in the last a few years, so it shows us your achievements. You are successful, your policy of openness and modernization. And may I say a few words about your nature, about your wonderful climate, about your clean air and blue sky. We are very impressed. Thank you again. We wish you prosperity; we wish you new achievements. And I say this not by thinking of only myself, but on behalf of all our delegation.
On future cultural exchange and cooperation
I'm not only the Russian Counselor, but I'm also the Director of Russian Cultural Activity, which is very important for me. I hope Inner Mongolia and Russia's cultural exchanges will become more frequent in the future. I would like to see cultural exchanges in every field. Music, for example, because I saw that your musical instruments are very different from Russian ones. Especially the Ma Tou Qin, or the horse head fiddle. They are very rare. I also like wrestling. I hope to expand our commonalities.