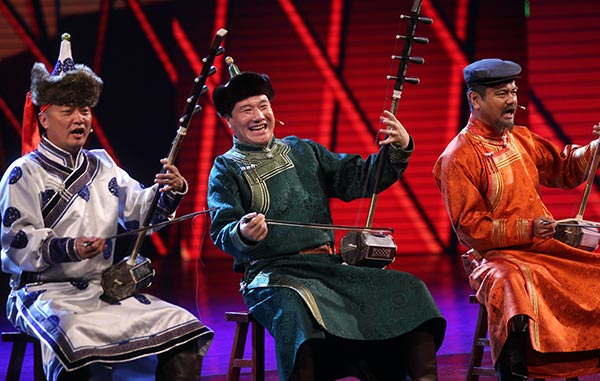 Ulan Muqir Art Troupe from the Inner Mongolia autonomous region stages two shows in Beijing in May. Zou Hong / China Daily
A small art troupe founded six decades ago has grown into a household name in the Inner Mongolia autonomous region.
In the 1950s, Ulan Muqir Art Troupe was created by nine young musicians, who toured remote villages on horses and performed traditional Mongolian music and dances for nomadic families.
Ulan Muqir literally translates as "red burgeon", and today's performers of the troupe still tour the region's villages and entertain nomadic families, but their fame has spread around the world.
On May 16 and 17, nearly 100 singers and dancers from the troupe performed at Beijing's Poly Theater. Their show, titled Ulan Muqir on the Grassland, depicted the history and development of the art troupe.
"Being from the region allowed me to embrace the culture of Inner Mongolia and being a member of the troupe showed me where I belonged," Nasun, the art troupe's president, who is also a renowned tenor, tells China Daily.