Prada gets a makeover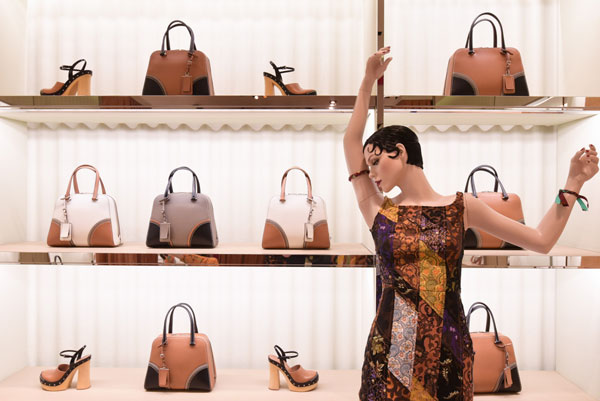 Based on the 2015 spring/summer collection, Prada's new store designs by some of the most acclaimed costume designers in the film industry, were shown for the first time in Beijing last month. [Photo/China Daily]
Top costume designers from Hollywood have re-designed the fashion label's flagship stores around the world. Sun Yuanqing looks at their recent changes in Beijing.
Fashion and film have always been closely linked. In Prada's latest project, Iconoclasts, they come even closer.
In 2009, the Iconoclasts, which literally means creating a classic by breaking the norm, recruited renowned fashion editors such as Carine Roitfeld, Katie Grand, Alex White and Olivier Rizzo to remodel Prada stores in Paris, Milan, London and New York.
This year, Prada invited some of the most acclaimed costume designers in the film industry to recreate its flagship stores, based on the 2015 spring/summer collection. First staged in New York, London and Paris during fashion weeks, the new store designs were shown simultaneously for the first time in Beijing last month.
Among the designers is Milena Canonero, the legendary Italian designer, who recently won an Oscar for her work on The Grand Budapest Hotel. It was her ninth nomination and fourth win at the Oscars. Her portfolio includes classic films such as A Clockwork Orange, Barry Lyndon and Out of Africa.
Canonero re-created her design in Prada's Paris store in Beijing's In88 branch. She drew on the feng shui philosophy, reinventing the space with elements such as water, fire, air, earth and most importantly, human love. Mannequins wore Prada clothes, striking unconventional poses expressing love and loss of love.
The feng shui philosophy has harmony with nature at its core, which compliments the rich and diverse style of Prada's new collection, Canonero says.
"It is very exciting to have this opportunity to display my project in China. I have a great love for this country, its history and traditions. I am interested in seeing how people will react to our Iconoclasts," she adds.