Cartier and Chinese body to jointly promote art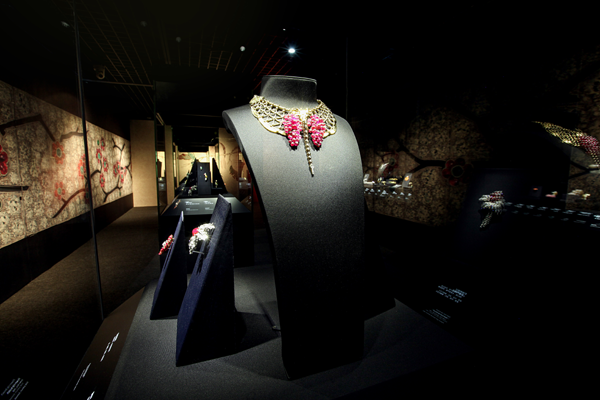 Cartier legendary jewelry is on display at Sichuan Museum in Chengdu through July 28.[Photo provided to China Daily]
Art Exhibitions China and Fondation Cartier pour l'Art Contemporain signed a cooperation agreement in Beijing last month, with the aim to jointly promote personnel training, exhibitions and brand marketing, among other areas of mutual interest.
The foundation, also known as Fondation Cartier, is a nonprofit that discovers and promotes modern art, while the Chinese government body specializes in organizing exhibitions of cultural relics in the country and outside.
"We both want to share the beauty of art and that requires expertise," says Stanislas de Quercize, president and CEO of Cartier. "We both want to be culture ambassadors to bring the art of Cartier to the Chinese audience."
A roundtable conference will be held in June, involving Chinese curators and Pierre Rainero, Cartier's director of image, style and heritage. In July, Cartier will receive interns from China at Fondation Cartier in France. The interns will learn about modern art and have the chance to see Cartier's collection of more than 1,500 heritage pieces.
The agreement is intended to promote cultural exchanges between China and France, as well as heritage preservation in both countries, says Wang Jun, director of Art Exhibitions China.
"On one hand, we promote our own culture. On the other, we will introduce advanced practices and ideas to China," Wang says.
Although details have yet to be discussed, it is a long-term agreement, especially in regard to personnel training, he adds.
Cartier started building its collection more than 30 years ago, buying back heritage pieces from auctions and individual collectors. The exhibits are on show in Sichuan Museum in Chengdu through July 28. The pieces include legendary jewelry such as the late Hollywood actress Elizabeth Taylor's diamonds and the late British duchess Wallis Simpson's brooch.
Fondation Cartier, which has held exhibitions for Chinese artists like Yue Minjun and Cai Guoqiang earlier, will continue to support Chinese modern artists, says De Quercize.
"I love China because here people have a very good eye for design and craftsmanship," he says.