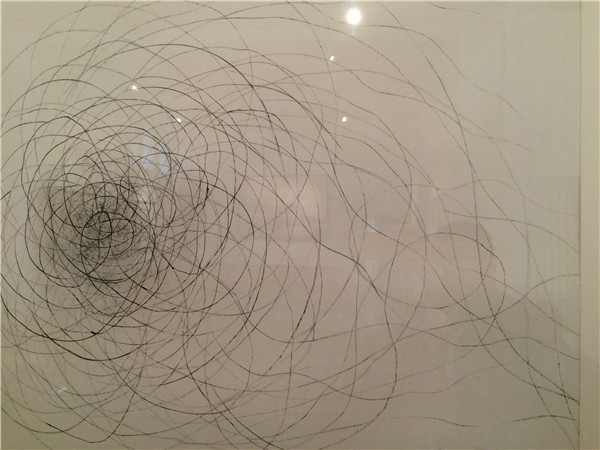 [Photo/China.org.cn]
Famous Chinese artist Wang Huangsheng has come to London for the official opening of his first London solo exhibition, which is being held at the October Gallery in central London until June 20, 2015.
Wang is a renowned artist in the ink and paper tradition but with a contemporary twist, and he is also the director of China's Museum of the Central Academy of Fine Arts. This solo show -- in which Wang showcases his "Moving Visions" collection -- has been a long time coming. Though his works are already present in many international galleries, this is the first time that a London gallery has unveiled works by Wang, who has been described as "one of the most influential figures in the art world of China."
Son to a father of the artist literati tradition, Wang moved with his father to the countryside during China's social upheavals in the 1970s. It was there that' his father encouraged him to learn Chinese calligraphy. Calligraphy is a traditional art form in China, and as the Chinese art world experienced a new wave in the eighties, calligraphy also went from being about the beauty of writing to the beauty of the line, and became expressive of the hearts and minds of the Chinese people in a fluid and abstract way.
Wang's "Moving Visions series," presented in the exhibition aptly titled "Unbroken Line", articulates "spiritual freedom," and the "power and resonance that China's long tradition of calligraphy gives it," Philip Dodd, chairman of Made in China, wrote in the foreword to the October Galleries exhibition.
Another of Wang's exhibitions "Blade & Line" is taking place in Beijing until May 30, 2015, at CAFA International, B-3 Red Yard No.1, Cao Chang Di, Chaoyang District.