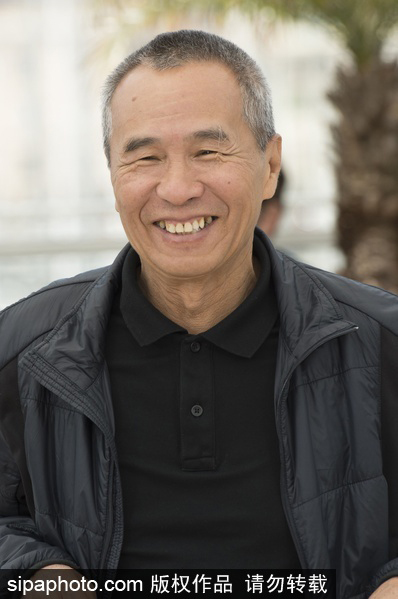 Director Hou Hsiao-Hsien attends the photocall for "Nie Yinniang " during the 68th annual Cannes Film Festival on May 21. [Photo/SIPA]
"The most difficult thing on set was the background and when I was filming, I wish I could have come back to the Tang Dynasty to see how it was really in those days," movie director Hou Hsiao-Hsien told Xinhua.
"I was much influenced from my young age of this period because we can discover lots of novels, especially martial arts novels, and it has a been long time that I really want to make such a film," Hou said during an exclusive interview with Xinhua presenting his movie, Nie Yinniang (The Assassin) in competition at the ongoing 68th Cannes Film Festival.
About the inspiration, Hou said:" China has many novels, but the long novels started to come out after the Tang Dynasty, before that we had a lot of short stories. In particularly, there is a book called 'Stories of Tang People' and the story of the movie comes from that book."
Asked about how he directs on set, the director told Xinhua he didn't direct at all.
"I just gave them the script and they will have to read it. Then we didn't have rehearsals and they all played according to what they read, so if it might not god enough we will shoot again," he explained.
Regarding the collaboration with the main female actress, the Chinese star Shu Qi, Hou said: "It has been a long time since I started working with her, so we know each other very well, and after the first film in which we worked together we have established a mutual trust in each other."
According to Hou, Shu has a fantastic personality, on the outside she looks really gentle and tender, whereas inside her, she has a very strong personality.
Music also plays an important role in the movie, Huo clarified that all the music used in the film is not from China but French and African combined together, one French song he used was very famous five years ago.
Related:
Hou Hsiao-Hsien wins Best Director at Cannes