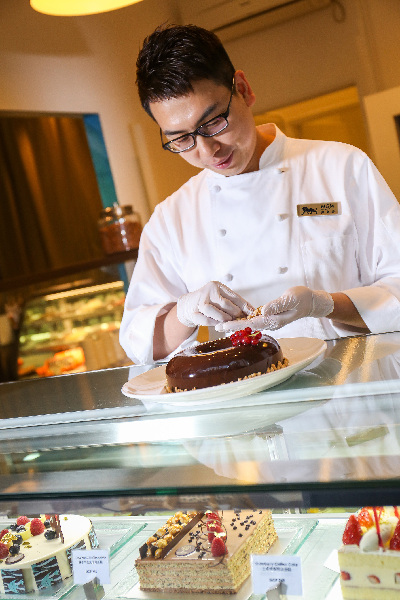 Artistic design is very important in pastry-making in South China, says chef Micky Ma.[Photo provided To China Daily]
MGM Macau's pastry sous-chef draws on an artist's biography and style to develop his latest creation
The MGM Macau recently hosted an open-kitchen event to showcase its party sous-chef, Micky Ma, who recently represented the Chinese national team at the bi-annual La Coupe du Monde de la Patisserie 2015 in France, a demanding contest for pastry chefs that has been dubbed "the Olympics of the culinary world". China Daily talked to Ma about the contest and about a pastry he's created in honor of a monumental sculpture now on exhibit at the hotel, Joana Vasconcelos' Valkyrie Octopus.
What was it like to compete at such a big event in France?
'It was like cooking with friends even though we all wanted the trophy. We were all trying to make the most of what we were given within nine intense hours but the audience was really supportive. It was both physically and mentally demanding. The trip gave me a lot of inspiration.
Who were the other two chefs on the Chinese team?  
Two male chefs: Cang Yunpeng and Zhang Jiaqing.
You didn't win this year...?
I've broadened my horizon on the international stage and shared our experience, and learned from others. We're improving ourselves year by year. I hope the Chinese team can do better next time. China will select one team, and the team will join the Asia final. Only the top four teams in Asia can go to France.
Was it fun?
I felt great pressure but the competition is also great fun. I went to many markets to taste a variety of ingredients, trying to figure out what to present in the competition.
What did you cook?
I made a chocolate cake, with unique jams. I blended fruits such as mango and strawberries into puree. I put about two dozen kinds of purees on the desk, and used a spoon to taste one by one, trying to get which two are the perfect match. We prepared about half a year for the competition, and went to France one week in advance to practice. The contest took only one day.
In the competition, we made delicious black-sesame rolls, with black-sesame jam inside, and green-curry ice cream. After the competition, we visited France, Italy, Switzerland, and Belgium to taste different pastries.