Chef Pierre Gagnaire: inspiration from the senses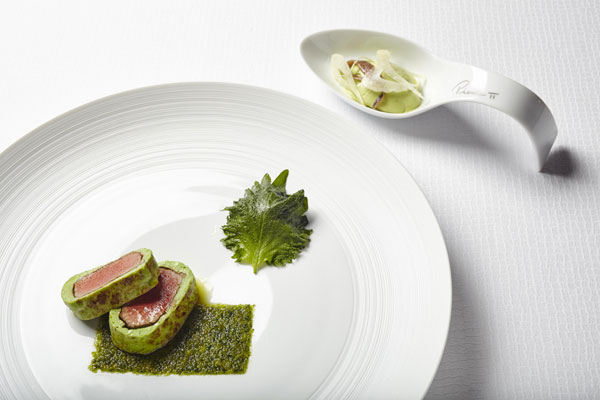 Saddle of lamb in caul casing, herbs crumble and green curry is aired well with a series of hearty reds. [Photo provided to China Daily]
Veteran French chef Pierre Gagnaire says his philosophy is simple: honesty, kindness and sincerity. Mike Peters reports in Hong Kong.
Pierre Gagnaire has three Michelin stars for his namesake restaurant in Paris, two for Hong Kong's Pierre and a scattering of stars at other partner restaurants around the world.
He will turn 65 next year, "which means I will have been in a kitchen for 50 years".
Despite that weight of experience, he says he can't precisely explain how he comes up with dishes like his anchovy broccoli ice cream with crispy fennel - which he's serving alongside saddle of lamb on a special menu for Art Basel Hong Kong this week.
"Why? Why that painting?" he asks, setting down his morning coffee to wave at an artwork on the wall behind him.
It's an explosion of red and green slivers scattered like the detritus of fireworks after New Year celebrations.
"It's an inspiration that comes from the senses," he says.