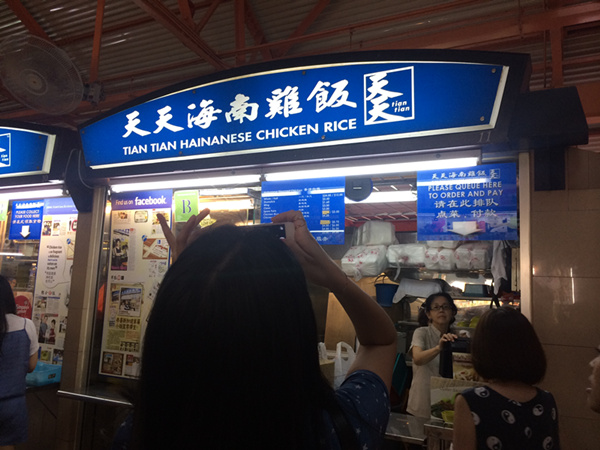 A famous Hainanese chicken rice stall. [Photo by Wang Chao/China Daily]
Singapore is a small place but it's definite worth paying a second or third visit if you are a gourmand.
The taste of the food is generally quite heavy: curry, chili, and pepper surely spice up your day. But don't worry, there is such a variety of choices that you can always find your style nomatter if you are from Sichuan province where the red chili brings you to tears, or fromGuangdong province, where the light but nutritious soup is worshiped bymost.
Laksa is definitelymy favorite dish in Singapore, as I love spicy flavor and no food like laksa can offerme such multiple levels of chilliness. It is a Peranakan dish - ethnic Chinese who migrated fromthemainland to this former British colony - and is popular in Singapore and Malaysia.
The dish is so popular that I even find one Singapore soap opera when I watch TV at my Beijing home - telling a story how a bunch of teenagers trying to steal the laksa recipe froma famous local restaurant.
I had a bowl of laksa for breakfast in a hawker center. I admit it was too heavy for breakfast, but I never regret ordering it.My Singaporean friend told me it ismade of creamy coconutmilk gravy with noodles.
To taste asmany foods as possible, I ordered a kaya toast asmy breakfast supplement. Then the breakfast becomemy brunch as they are quite stuffy. The kaya toast seemsmore like a desert, as it ismade with toasted bread with a topping made of coconut jammixed with eggs, sugar and pandan. It usually goes with a cup of halfboiled eggsmixed with several drops of soy sauce. It tastes silky but a bit strange, especially for people who are not used to eating raw eggs.