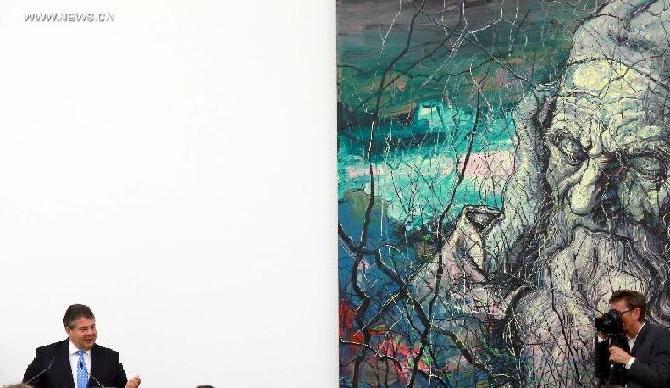 German vice-chancellor Sigmar Gabriel speaks at the opening. [Photo/Xinhua]
In eight cities and nine museums, 500 works by more than 120 Chinese artists are on show for the first time in the Rhine-Ruhr Region of Germany. As the biggest worldwide exhibition of Chinese contemporary art, CHINA 8 runs until Sept 13.
The Rhine Ruhr Region is the third largest metropolitan center in Europe with 53 connected cities and 18 million residents. Eight of its biggest cities and their major art institutions are participating: Düsseldorf, Duisburg, Essen, Gelsenkirchen, Hagen, Marl, Mülheim/Ruhr and Recklinghausen.
German vice-chancellor Sigmar Gabriel, also Federal Minister for Economic Affairs and Energy, attended the opening ceremony at Museum Küeppersmüehle, Duisburg, together with China's ambassador to Germany Shi Mingde.
"Chinese contemporary art largely enriched international art and made it more colorful. It's a correct choice to found the exhibition here. CHINA 8 not only shows an infinite variety of Chinese contemporary art, but also brings a new opportunity to Rhine-Ruhr locals to recognize its superiority," said Gabriel.
CHINA 8 is organized by the Foundation for Art and Culture in Bonn. The exhibition is sponsored by Düsseldorf Airport and foreign companies. According to Shi, CHINA 8 is not an official exchange project but a cultural dialogue between art circles, as well as a window for Westerners to know the real China.