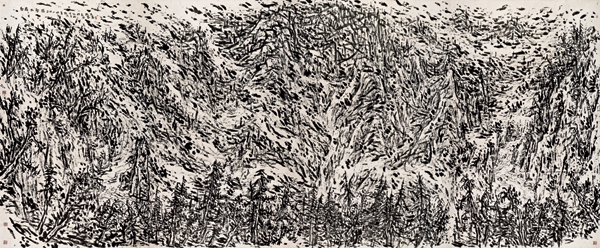 Ink painter Cui Zhenkuan captures the relationship between humans and nature with his unique brushstrokes, which is highlighted in his ongoing solo show in Beijing. Photo provided to China Daily
Cui Zhenkuan is still seeking change and innovation at the age of 80. With a career spanning more than six decades, the painter has committed himself to pushing the boundaries of ink art.
Through a solo exhibition, titled Tremendous Mountains in Silence, currently on at the National Art Museum of China in Beijing, Cui is presenting his renewed engagement with ink and water-displaying dozens of mountain-and-water paintings and sketches, which boast of his relentless attempts to try to perfect bimo (brush and ink) techniques.
"I'm an aged man. But I haven't achieved maturity in painting," the veteran artist says.
"My brushwork isn't sophisticated and precise enough. There is room for improvement."
Experiment with ink
According to exhibition curator and art theorist Wang Lin, the title of Cui's show summarizes his art.
Cui captures the relationship between humans and nature with his brushstrokes, and shows how it has evolved over time, Wang says.
"One can feel the changes in Chinese society and the spiritual dimension the people have taken," Wang says of the mountain-and-water motif that has come to define Chinese art.
The exhibition shows Cui's obsession with executing jiaomo (dry ink) landscapes.