Healthy, bite by bite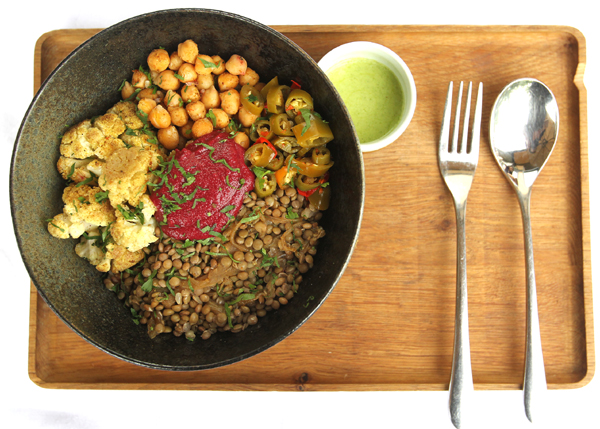 Israeli lentil bowl features a five-grain base, spiced lentils, pickled peppers, toasted cauliflower and beet hummus. Zhang Wei / China Daily
It's about 2:30 pm and Brandon Trowbridge is startled by my arrival to interview him. He's totally forgotten about the appointment after a busy morning, and has just started his lunch.
Trowbridge is the chief chef and menu designer at Tribe Organic, a hot spot among Beijing foodies for its healthy and organic fare, which he helped two Chinese women launch in 2014.
He also runs a Southern US-styled restaurant, NOLA, which he helped the owners establish in 2009, one year after he arrived in Beijing.
Born in 1982 in the Mississippi Delta city of New Orleans, the 32-year-old American came to Beijing at age 25 to work in a French hotel as chef de cuisine, after working in fine-dining restaurants in California after his college days.
Prior to that, he'd cooked in small Mexican restaurants during high school to help pay for his college tuition, starting as a vegetable cleaner.
That range of experience helped him see many different ways to cook, and Tribe Organic is quite a demo of such flexibility.