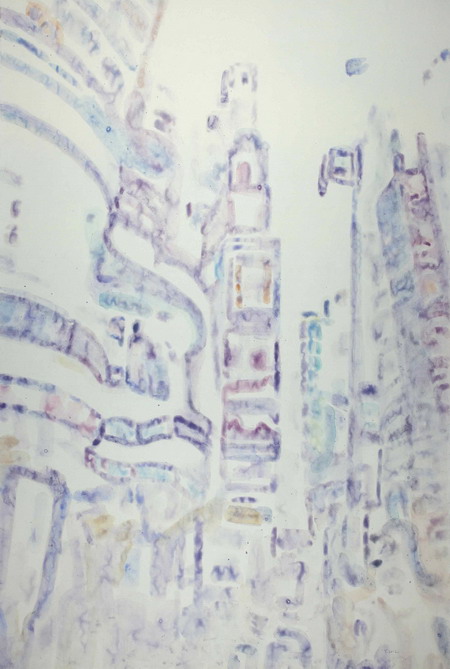 Times Square, Ink on paper, by Wu Yang 
From a moderately sized courtyard tucked away in Beijing's hutong area within the Second Ring Road, artist Wu Yang's exhibition - Glimpses of the City - offers an interesting juxtaposition between her subject of modern urban spaces and the remnants of the city's traditional dwellings.
In the quiet quadrangle, Wu presents a series of abstract paintings inspired mostly by her two-year stay in New York City, using lines, dots and shapes to reconstruct the feeling of space and people in one of the busiest cities in the world.
Though iconic spots such as the Times Square and Lincoln Center can be found in the series, Wu says it's not necessarily all about the Big Apple.
Public space and its relationship with people has been a constant theme for Wu, as the artist believes that it points to the existential dilemma facing modern people who are confined in manmade spaces.
Wu came up with the theme about seven years ago, when she began to focus on Beijing's overwhelming expansion and transformation.
Beijing and New York are both interesting cities, where people face similar challenges.
Wu, who was trained at a very early age in Western art and later graduated from the renowned Central Academy of Fine Arts in Beijing, uses ink and paper as well as Chinese colors in the exhibition. The result is delightfully contemporary.
IF YOU GO
Glimpses of the City-Wu Yang Art Exhibition
10 am-5 pm, until Aug 30.
Tiancheng Courtyard, 31 Zhong Maojiawan Hutong, west of Beijing No 4 Middle School (near Pinganli subway station), Xicheng district, Beijing. 138-1098-8508.