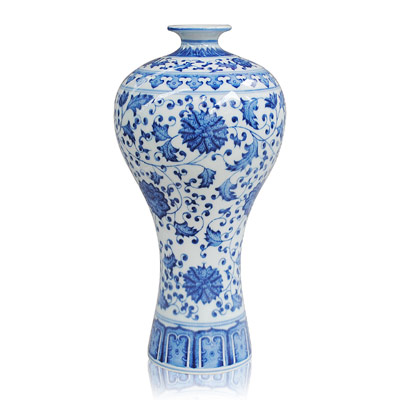 blue and white porcelain vase
This summer, led by China's Cultural Ministry, I was honored to visit the millennium ancient porcelain capital, Jingdezhen city in Jiangxi province, along with cultural diplomats from a dozen countries. The trip became a special summer memory.
In the picturesque city, I was attracted by the native environment, the diligent people and the world-famous porcelain art they create. I took a close look at the production procedure and tried my hand at the craft under the guidance of several masters. What surprised me most was that making a piece of exquisite Jingdezhen porcelain from clay, it must go through 72 steps in process. Unless I personally visited the place, I would not realize the profound mystery about the city.
Many people like Chinese culture because of the porcelain. In 1973, as a university student in Moscow, I came to Beijing to do a graduation internship. From 1997 to 2001, I worked as the consul-general for Russia in Shanghai. And not long ago, I moved to Beijing again. It seems that China always attracts me.
Among many kinds of Chinese porcelain, I love blue and white porcelain best. The color combination of blue and white reminds me of the Gzhel, famous, traditional porcelain in Russia. Now, like those in Jingdezhen, Russian craftsmen also endeavor to combine the traditional craft with modern culture, and have created many unique models, such as knights and Russian dolls.
Porcelain is representative of Chinese culture. Moreover, it plays an important role in introducing Chinese culture to the world. Chinese porcelain used to be delivered to western countries through the great "Silk Road" and the "Maritime Silk Road". And Russia used to be one of its historic trade destinations, which influenced communication between the two countries. The cultural exchanges enhanced mutual understanding and in some ways promoted progress in the two civilizations.
This time, I unexpectedly found a portrait of Tolstoy in a century-old ancestral hall in Yaoli town. It was put beside the portraits of Confucius and Mencius, the ancient sages in Chinese history.
Coincidentally, I was told that my Chinese name started with "Kong", which is the same family name to Confucius. I felt very honored for that. As Confucius once said, "To learn and at due times to repeat what one has learned, is that not after all a pleasure?" It is the same to the communication between countries. Now that the China-Russia relationship is experiencing its heyday, what we should do is to pass on the torch to others.
(Kong Nuofu, Chinese name. The author is a counselor at the Russian Embassy in China and head of the Russian Cultural Center in Beijing.)

We recommend: