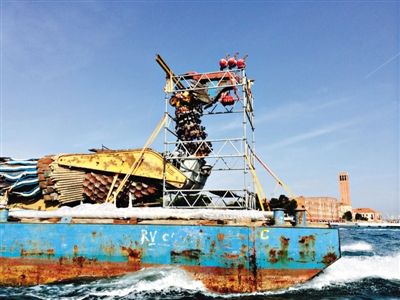 Installation work The Phoenix Project by Xu Bing is the biggest single art work in the Venice Biennale.[Photo from Internet]
As one of the oldest and most important exhibitions of contemporary art in the world, the 56th Venice Biennale will take place from May 9th to November 22nd. Four Chinese artists' works will appear in the main pavilion, while transcending the borders of contemporary art will be the most obvious feature for the China Pavilion this year.
Ever since its foundation in 1895, the Venice Biennale, also known as La Biennale di Venezia, gradually developed into a prestigious cultural gala, promoting new artistic trends and organizing international events concerning contemporary arts. Since 2005, Chinese artists have partaken in this arts exhibition, and aroused more and more interest from the international art community.
For this year, the theme of the exhibition is "All the World's Future". Okwui Enwezor, chief curator of the Venice Biennale, said that he wished to collect the wisdom and thoughts of artists from different fields in the world, and show the current development as well as main characteristics of humanity's situation in different countries or areas.
Enwezor selected Qiu Zhijie's installation work Light Colors in Lantern Festival as a display for the main pavilion when it was on show in the Red Brick Museum in Beijing. The installation took a Ming Dynasty painting as the script, and restored a scene with a lantern, goldfish bowl, cradle, string bag as well as other materials in order to explain the social relations showed in the painting.
Paintings by Ji Dachun, a spatial model La Town by Cao Fei, and installation work The Phoenix Project by Xu Bing were also chosen to be displayed in the main pavilion. The Phoenix Project was the biggest single work of art in the Biennale, and has been exhibited in several countries before.