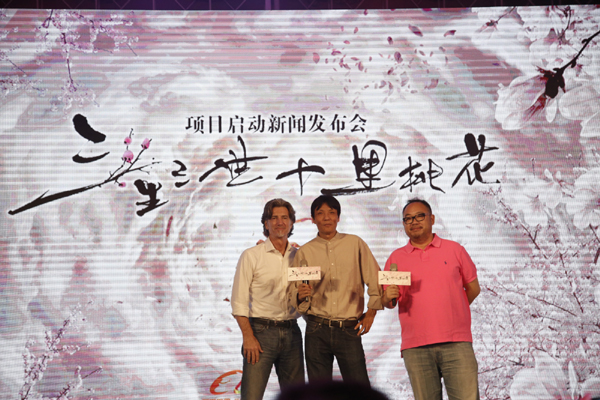 Anthony LaMolinara (left), Zhao Xiaoding (middle), and Zhang Yibai (right) Photo provided to China Daily
Alibaba Pictures has announced it plans to bring a popular online fantasy romance novel to the big screen.
The novel Sansheng Sanshi, Shili Taohua (Three Lifetimes, Ocean of Peach Blossom), written by Tang Qi, was first released online in 2008, and 1.1 million copies have been sold since it was published in 2009.
Zhao Xiaoding, a renowned cinematographer, will direct the film. Zhang Yibai, a director and savvy adaptor of online stories for the screen, best known for his campus romance Fleet of Time will produce the film.
A visual effects team led by Hollywood veteran Anthony LaMolinara will join the production aiming to mix fancy techniques into this local production. LaMolinara won Academy Award for Best Visual Effects through Spider-Man 2.
Casting of the film will be chosen among Chinese college students. A nation-wide competition selecting lead actor and actress will soon begin.
It is not yet known when the film will be released.
Related:
A Beijing garden stands witness to Sino-French relations
Monsters vs humans in animated film made for China