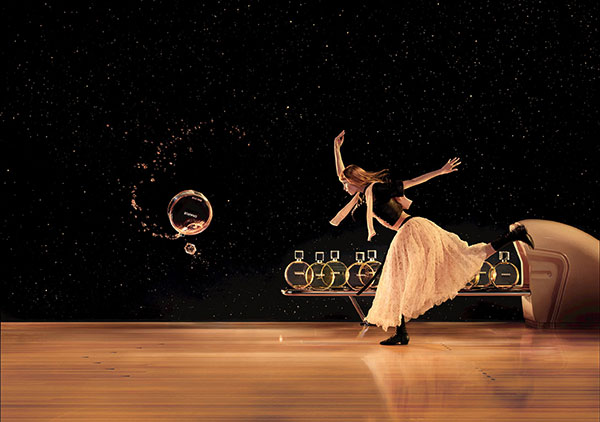 Chance Eau Vive, Chanel's latest perfume, created by Olivier Polge, is aimed at delivering a spirit of joy and optimism. [Photo provided To China Daily]
Luxe house Chanel celebrates the joy of life with its latest fragrance. Sun Yuanqing chats with creator Olivier Polge about accentuating the positive.
Coco Chanel used to say that chance only comes to optimistic people who know how to recognize it.
That spirit is now transformed into a scent called Chance Eau Vive by Olivier Polge, the fourth-generation creator of Chanel fragrances.
The latest offshoot of Chanel's Chance fragrance line, the fragrance smells of grapefruit, orange, jasmine and vetiver, which Polge created to deliver a spirit of joy and optimism.
This is the second fragrance he has created for Chanel, after introducing Misia early this year, which was inspired by Coco Chanel's friend Misia Sert.
Compared with Misia, which is relatively flowery and powdery, Polge says the new perfume is designed for a moment that is "more casual and spontaneous".
"I want to bring more movement. All the Chance fragrances have very different angles. Chance Eau Vive is much more watery and energetic," Polge tells China Daily.
Polge says he didn't create the fragrance with a precise idea of what type of women would wear it. Instead, he believes the person who wears it will bring it to life.
"But I imagine it's someone who is seduced by optimism and joy and tries to express it with fragrance," he says.
The son of Jacques Polge, Chanel's legendary fragrance creator of best-sellers like Coco Mademoiselle and Chance, Polge was only 4 years old when his father took the reins as house perfumer for Chanel.