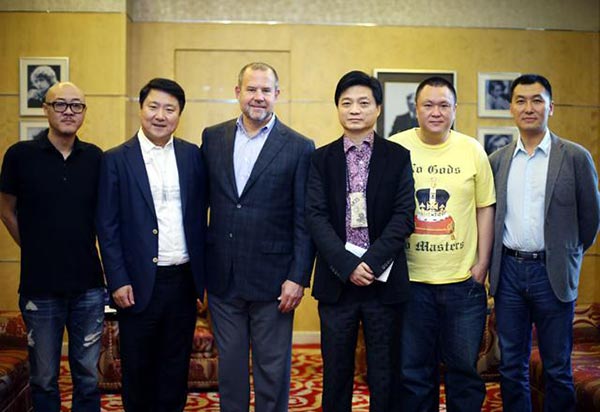 (From left to right) Chinese director Zhang Meng, president of Bona Films Yu Dong, former vice chairman of Universal Pictures Marc Shmugger, TV host Cui Yongyuan, president of Hong Kong Filmco Pictures Wang Haifeng and general manager of Tencent Sun Zhonghuai discussed issues China's film industry faces at a forum during the Shanghai Film Festival. [Photo/Agencies]
China's film industry is expanding at a breathtaking rate. Box office returns in the market surged by 36 percent to reach more than 29 billion yuan ($4.67 billion) in 2014, making the country the second-largest inudstry after the United States.
All seems well, but under the glitz and glamour, the sector still faces some issues.
"Every time I visit the US, I'm always introduced as a famous filmmaker in China. When they hear this, I'm treated really well. I sometimes say I'm an actor and I've worked in 300 films, and they believe that too."
Chinese television host Cui Yongyuan (who has never starred in any films) mocked at how little Americans know about Chinese films and country's filmmakers during a forum titled "The next stop of Chinese films: In-Between prosperity and crisis" at the ongoing Shanghai Film Festival.
It's spring time for the blooming film market, but outside the national gate, many Chinese films remain unnoticed.
"Viewers don't have many chances of seeing many of the Chinese films outside China, especially in the US. Chinese films are not released globally, and this is a challenge China faces - to make films to attract the attention and imagination of not just Chinese viewers, but of those around the world," said former vice chairman of Universal Pictures Marc Shmugger.
According to Yu Dong, president of Bona Films, though the country produces 700 to 800 films out of more than 5,000 films released globally each year, China only takes up a small share of the film market abroad.
As Yu puts it, if American films comprise 99 percent of ticket sales in US and Canada, only 1 percent of this is left for foreign language films, which equals to about $100 million in profit. Out of this piece of pie, a third goes to Indian films, and Chinese films only make about $10 million. Most of this profit comes from areas and regions with an abundant Chinese population.
Yu also mentioned the phenomenon of fan films.
"Fan films and films made based on reality television shows sell well in China, and this sucks up investment that should go into larger and better productions. These films are lowering the bar for film production, making domestic films insufficient to resist competitions from Hollywood blockbusters, let alone march into the market abroad," said Yu.