'Jurassic World' rules box office with $204.6m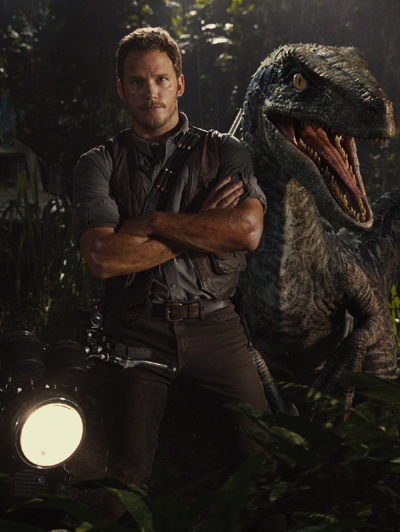 A scene from the movie featuring Chris Pratt.Photo provided to China Daily
Universal's "Jurassic World" is bringing in an estimated $204.6 million in its opening weekend, enjoying the biggest opening so far in 2015 and the second-best ever in North America, only behind "Marvel's The Avengers" in 2012.
Directed by Colin Trevorrow, "Jurassic World", the fourth film of "Jurassic Park" franchise since 1993, received $82.6 million on Friday. That helped the film have the biggest opening of 2015 and the third-biggest opening day ever in North America, exceeded only by 2011's "Harry Potter and the Deathly Hallows, Part 2" ($91.1 million) and "Avengers: Age of Ultron" ($84.4 million) in this May, according to box office tracker Rentrak.
Starring Chris Pratt, "Jurassic World" brings the audiences into an almost real world with dinosaurs at 4,274 locations in America and Canada. First-night moviegoers gave it a strong "A" on Cinema Score. "Jurassic World" received 70 percent approval rate from critics on Rotten Tomatoes. The audience breakdown for the film skewed towards male moviegoers (52 percent) and towards the audiences over 25 (61 percent).
"Jurassic World" also won a worldwide preference. The film collected $307.2 million in other 66 territories, beating the previous record holder "Furious 7" with $250.4 million in this April. The overall gross of "Jurassic World" is over $511.8 million, which is the highest global revenue in one weekend.
Fox's R-rated "Spy" with Melissa McCarthy dropped to second place with an estimated take of $16 million, which has grossed $56.9 million in ten days.
Warner Bros. "San Andreas" was in third place in its third weekend, with 11 million dollars in ticket sales. The "Rock" Johnson led 3D Disaster film has got $119.3 million since released.
"Rounding out the remaining top 10 movies in the US and Canada this weekend were "Insidious Chapter 3" ($7.3 million), "Pitch Perfect 2" ($5.9 million), "Entourage" ($4.3 million), "Mad Max: Fury Road" ($4.1 million), "Avengers: Age Of Ultron" ($3.6 million), "Tomorrowland" ($3.4 million) and "Love and Mercy' ($1.8 million).
Related:
Domestic competitiveness key to future of China's film industry