Christopher Lee, evil count of cinema, dies at age 93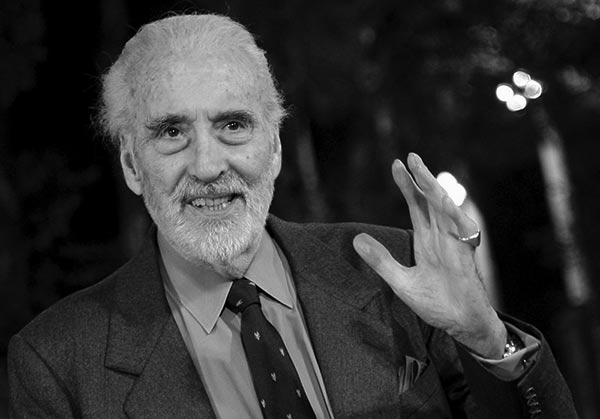 Actor Christopher Lee poses on the red carpet during the Rome film festival in this October 15, 2009 file photo. [Photo/Agencies]
British master of the macabre Christopher Lee, who portrayed Dracula in outrageous horror classics but became known to later generations for roles in "Star Wars" and as the wizard Saruman in the "Lord of the Rings," has died at age 93.
Lee died on Sunday in a London hospital, where he had been undergoing treatment for respiratory problems, according to his death certificate.
The London native achieved fame from the late 1950s into the 1970s playing characters including Dracula, Frankenstein's monster and the Mummy for Hammer Films, and later in his career made memorable appearances in a series of blockbuster movies.
With his deep, mellifluous voice and ramrod 6-foot 4-inch (1.93-metre) frame, Lee was the last English-language horror movie star in a line that traced back to silent era luminary Lon Chaney and included Bela Lugosi, Boris Karloff, Vincent Price and Peter Cushing, Lee's regular Hammer Films co-star.
Lee brought to his monsters a sense of pitifulness that he called "the loneliness of evil." Despite being a master of the horror genre, Lee did not even like the word.
"It implies something nauseating, revolting, disgusting - which one sees too often these days. I prefer the word 'fantasy,'" he told the New York Times in 2002.
Many leading directors sought out Lee's talents, especially in the latter stages of his career when he was already elderly.
Celebrities and politicians took to Twitter to hail Lee.
British Prime Minister David Cameron called the actor "a titan of (the) golden age of cinema." London Mayor Boris Johnson called Lee "one of the greatest British actors and a master of the macabre."
Roger Moore, who played James Bond in "The Man with the Golden Gun" (1974) in which Lee was the villain Scaramanga, offered condolences to the actor's wife of 54 years, the former Danish model Birgit Kroncke, their daughter Christina and her husband, Juan Francisco Aneiros Rodriguez.
"It's terrible when you lose an old friend, and Christopher Lee was one of my oldest," Moore said. "We first met in 1948."
Director Tim Burton, who worked with Lee on five movies, called him "the last of his kind" and "a true legend."