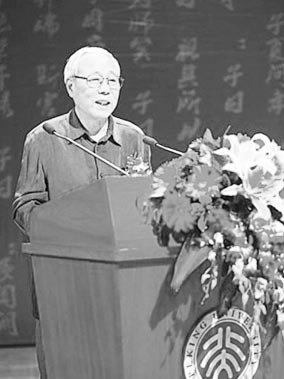 Li Shaobai speaks at Peking University. [Photo/Xinhua]
Li Shaobai, China's leading authority on historical films, died on Monday aged 84.
As co-author of a wide-ranging series of books entitled Chinese Movie History, he devoted his life to writing about the theories and aesthetics of film.
Born in a remote village in East China's Anhui province, Li spent his childhood in times of war and chaos. He first followed his father to be a doctor.
In 1949, he abandoned medicine and joined the army where he was assigned to work in a film company and he came into contact with films covering wide range of subjects.
He wrote commentaries on films at home and abroad, including Roma ore 11, Angels on the Road and Bring back to Life.
In 1958, he was invited by the film history research studio of the China Film Association to take part in the compilation of Chinese Movie History, published in 1963, listed as the must-read books for anyone who is interested in the history of Chinese films.
He also made a notable contribution to film education in the 1980s. He was a pioneer setting up master and doctoral degrees in Chinese film-related subjects, cultivating a number of high-end talents in the field. He was also the country's first doctoral supervisor in film study.
In addition to his academic achievements, he had students throughout the country and many have now served as mainstays of Chinese film research and study.
According to Shi Chuan, one of Li's students who is now vice president of Shanghai Film Association and doctoral supervisor of the Shanghai Theatre Academy, Li was a book-lover. In his spare time, he read books ranging from classical philosophy to Marxism. He once said that reading could unite old knowledge with the new so that people could enrich their vision and broaden their horizons.
Related:
Author of Barbapapa dies in Paris