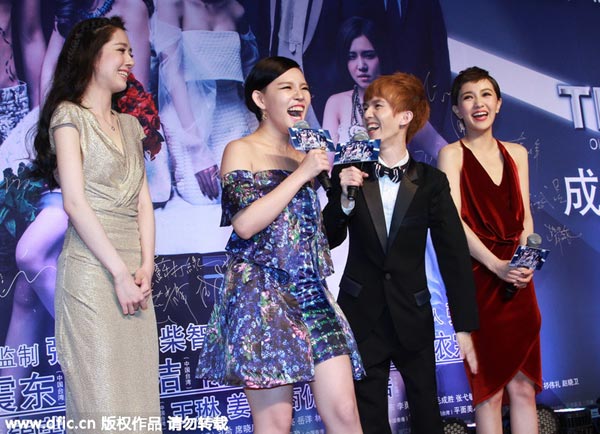 (From left to right) Actresses Bea Hayden, Evonne Sie, author and director Guo Jingming and actress Amber Kuo attend the premiere ofTiny Times IIIin Beijing on July 9, 2014. [Photo/IC]
Chinese writer-turned-director Guo Jingming's film Tiny Times III swept the Golden Broom Awards, winning four awards in total, including that for "most disappointing film".
The sixth Golden Broom Awards, China's equivalent to the Golden Raspberry Awards, was held on Monday night in Beijing. Tiny Times III, which grossed more than 500 million yuan ($798,500) at the box office but received bad reviews, was awarded as the "most disappointing film".
Actress Yang Mi, who stars in the Tiny Times franchise, was named the "most disappointing actress". This is the second time Yang has received such "recognition" after winning the same title in 2013.
According to the organizers of the Golden Broom Awards, which asks the public to select the worst films of the year, this year's contest is taking place amid "the most shameless, uncreative and dreadful" time in China's film history.
The founder of the awards, Cheng Qingsong, said the idea behind them is to encourage more feedback from movie fans.
Award nominees were selected through an online voting process. The public voted for the country's worst films through the Internet and new media platforms. Winners were selected after a month of public voting and judges by 25 professionals.