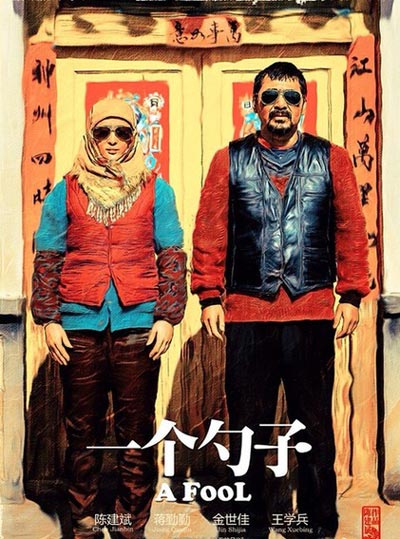 Poster of film "A Fool" [Photo/Mtime.com]
An upcoming film has become the unexpected victim of controversy after one of its actors was detained for drug use, stirring debate on whether movies or TV series should bear consequences if its actors break the law.
Award-winning film "A Fool" was slated to open in theaters in May, but may be forced to change its opening day after Wang Xuebing, who played a major role in the movie, was detained for suspected drug offenses on March 10. China currently has a regulatory ban on showing works of stars involved in drugs or prostitution.
After the scandal, the producers of the movie released a statement on its Weibo account, saying they would immediately meet with the director Chen Jianbin to solve the problem.
"A movie is not only the work of one man, but also consists of teamwork," said the statement, adding they hoped good works can be shared by the audience.
"A Fool" is not the only one facing such delays or possible financial loss due to collateral damage caused by an irresponsible actor. The crew of a movie was dismissed after its leading role actor Huang Haibo was caught visiting prostitute last May. The film "A Monk in a Floating World,", which stars Jackie Chan's son Jaycee Chan, was rumored to have cut some scenes after Chan received a six-month jail sentence.
"A Fool" is about a Chinese farmer who helps a homeless man find his family only to be accused of human trafficking by other homeless men claiming to be the man's relatives. The movie helped its director Chen Jianbin win the title of best lead actor at the 2014 Golden Horse Awards ceremony.
Related:
Zhang Yimou's new film reveals star-studded cast