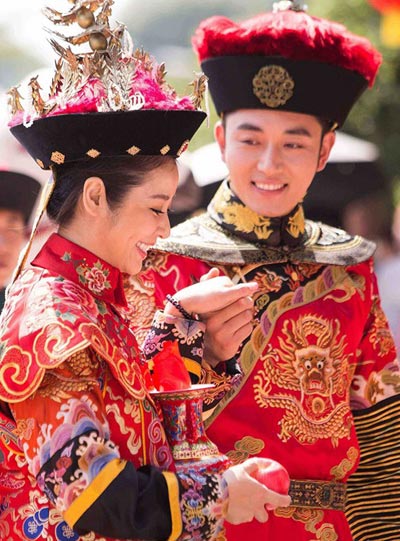 Actress Ruby Lin and actor Li Dongxue. Photo by Jiang Dong / China Daily
The highest-grossing blockbuster in Taiwan during the Spring Festival holiday landed on the mainland on March 5.
The Wonderful Wedding, which has earned 200 million new Taiwan dollars ($6.35 million), features the family's conflict between a Taiwan father-in-law and a mainland bridegroom.
In a push to generate a box-office boom on the mainland, the family-themed comedy premiered on the night of the Lantern Festival, a moment for family reunion. F
amed for her role as a Qing Dynasty (1644-1911) princess in the hit series My Fair Princess, Taiwan actress Ruby Lin stars as a Taiwan bride in a cross-Straits marriage, which causes a series of misunderstandings due to cultural differences.
Mainland actor Li Dongxue, who plays the bridegroom, says the romantic comedy gives him a chance to know about a typical Taiwan wedding ceremony.
"For example, the bride needs to throw away a fan (symbolizing the bad luck) when the bridegroom picks up her. It's very interesting. I never heard that kind of custom in the mainland," says the 33-year-old Li, who was born in Zhengzhou, the capital city of Henan province.
Related:
China passes US at movie box office