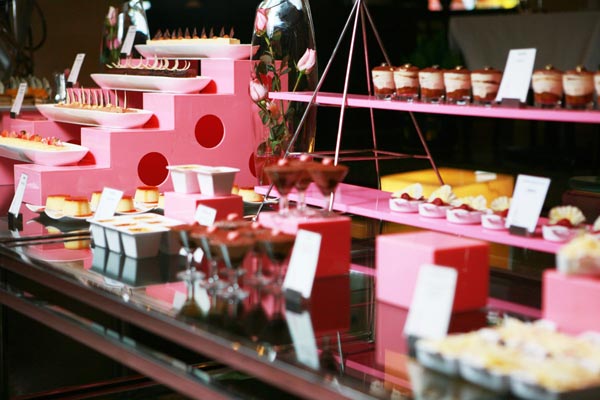 La Vie en Rose Sunday brunch set-up at Le Meridien. Photo provided to China Daily
The problem, if you can call it that, is where to start with the La Vie En Rose brunch at Le Meridien.
Before picking up plates, my companion and I are given a tour by Chef Eric, a member of the small army in the kitchen that prepares the weekly feast.
Eric walks us around the banquet explaining what's on offer. We start by the Italian station with a selection of fresh pasta and move on to the roasts-pork, lamb, beef, chicken. The meats jostle for room with piles of roast vegetables and a tray of mashed potato so tempting it might force us to break the first rule of buffets (no carbs, too filling).
We detour to the Indian section, tandoori lamb and a variety of curry vegetable dishes. There is a dim-sum station, noodles, cheese, sashimi, crayfish, antipasto, salads. Just when you think you've seen it all you realize there is a selection of breads and muffins tucked in the corner, an oyster-shucking station hidden behind the hamburger stand and a goose-liver station by the windows.