Sweet tradition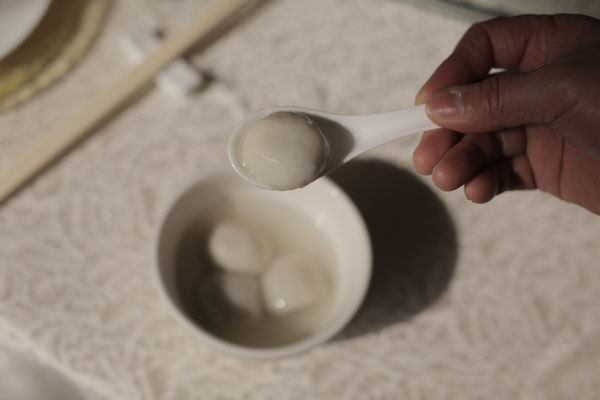 The hotel's popular snacks including tangyuan. [Photo by Wang Jing/China Daily]
Tiny tangyuan made from sticky rice bring this week's Lantern Festival to life in the hands of a veteran chef from Chongqing, Mike Peters and Liu Zhihua report.
Lu Biqun remembers the time when scoops of lard and sugar were not available for everyday cooking.
In hard times a generation ago, says the now 58-year-old executive chef at Beijing's Chongqing Hotel, having those simple ingredients available to make snack dumplings called tangyuan made celebration of the Lantern Festival really special.
In Lu's hands, the dumplings still have their old sweet magic. As this year's March 5 observation of the festival approaches, the chef's fingers flutter lightning-fast as she shapes the sticky-rice dough around the handmade black-sesame filling. Each bit of dough becomes a marble-sized ball, ready to drop into boiling water. Each seems perfectly round and identical to its siblings on the plate.
The secret, she says, is soaking the sticky rice for a long time - nearly a month - as she learned to do in her family's restaurant kitchen as a teenager in Chongqing. "That is a technique and tradition of southern China," she says, "and it brings out more of the sugar in the rice." In the north, the rice is simply ground to flour without soaking, but the resulting dough is not as smooth, tender or sweet, she insists.
Working in the hotel that's run by the Chongqing municipality, Lu is dedicated to the authenticity of her food. A working chef since the age of 19, she learned the art of making the city's famous snacks from her father, who once had the honor of hosting China's first premier. "He was a great chef - he served Zhou Enlai in 1958, but of course they vetted him and the restaurant very carefully before that could happen," Lu recalls. The restaurant was famous for serving "the best chickens and snakes", she says, as well as making a special type of baijiu, or Chinese white liquor. But during the political instability of the late 1950s, she says, the former private business was turned over to the government. Though the restaurant became State-owned, the family continued to run the kitchen, turning out tangyuan and the many other snacks that Chongqing has made its own in the pantheon of Chinese cuisine.