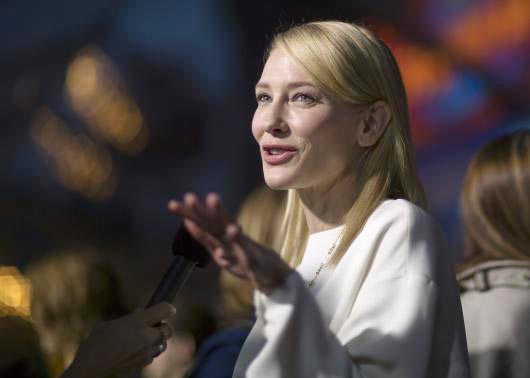 Cast member Cate Blanchett is interviewed at the premiere of 'Cinderella' at El Capitan theatre in Hollywood, California in this March 1, 2015 file photo. [Photo/Agencies]
After playing both real and mythical queens, a golden age screen idol and Bob Dylan, Cate Blanchett is taking on another iconic, complex character - Cinderella's evil stepmother.
In Disney's live-action "Cinderella," out in US theaters on March 13, Oscar-winning Blanchett plays the impeccably groomed and conniving Lady Tremaine, the villain obstructing Cinderella (Lily James) on her journey to becoming a princess.
Blanchett, 45, spoke with Reuters about how "Cinderella" brings a classic story into the modern age and weighed in on women in Hollywood.
Q: How do you put your stamp on a character like the evil stepmother that has become embedded in pop culture?
A: It's very easy to play someone who's just bad, but then hopefully understanding what makes someone tick. I think an exploration of jealousy amongst women is an interesting thing to explore on screen.
Q: How does this re-telling contemporize the story?
A: In the 1950s classic of the story, Cinderella was a bit of a doormat - she was incredibly beautiful, she moved gracefully. You also didn't really understand the prince apart from the fact that he was gorgeous and he rescued her.
(Director Kenneth Branagh) kept talking about kindness as a super power, which I think has taken the story into a contemporary arena. In this cutthroat world where economics is everything, if you stop and pause, have empathy and kindness towards someone, then people can walk all over you. The fact that her goodness and kindness triumphs, that it really truly is a super power, is a wonderful message in the contemporary world.
Q: Hollywood again came under fire recently for its lack of leading roles for women. How do you think traditional roles for women are changing in Hollywood?
A: The fact that we're still talking about it means that we probably haven't moved as far. But people always talk about Hollywood.
Let's start with equal pay for equal work, and when we can get to that space across all industries, then we might be able to say things have shifted. And then maybe you could look at Hollywood for the nuances of how things are being represented. I think women still have to talk about it ... there's still not gender equality in any industry.
Related:
Birdman to land at Beijing gathering