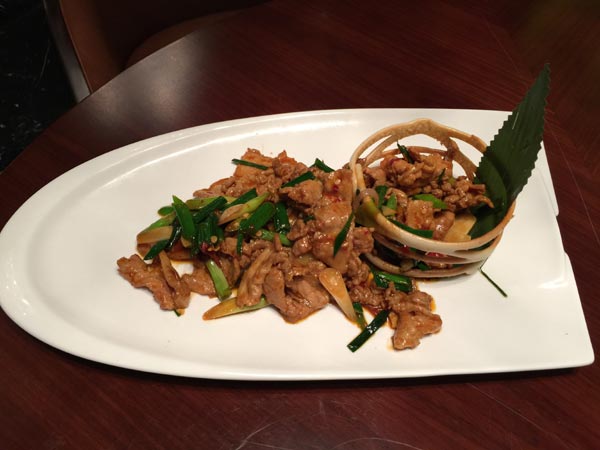 Stir-fried pork with leeks. Photo provided to China Daily
Foodies looking for a good sampling of Yunnan fare in Kunming might not head straight to the Holiday Inn. But after two eateries with guidebook raves turned out to be closed for an extended Spring Festival holiday-and the "grand dame" hotel of the city turned out to be a decaying old lady-we found unexpected delights at the American chain hotel.
Our festive spread started with a slightly spicy stir-fried pork with leeks (48 yuan). That perfectly fine but not too sexy dish was quickly followed by a knockout: stir-fried Shangri-La dried yak steak with "special spices". The studs in that mix are peppercorns from nearby Sichuan, which give the dish an aura of numbing heat without making us blind. Mixed in are sprigs of fried mint, with a melt-in-your-mouth crispiness and a surreally translucent greenness rarely seen apart from stained-glass windows. There are echoes of garlic and spring onion, too, all combining to give the earthy yak a curious elegance, enhanced by colorful presentation in a bamboo basket.
Next came a big slab of braised tofu, made in-house and silky smooth, smothered in spicy sauce enhanced with a mix of the mushrooms that beg to be part of any Yunnan meal. Not as incendiary as mapu tofu can be, though the kitchen will crank up the heat if that's your preference.