Flat white may be Beijing's brew of the moment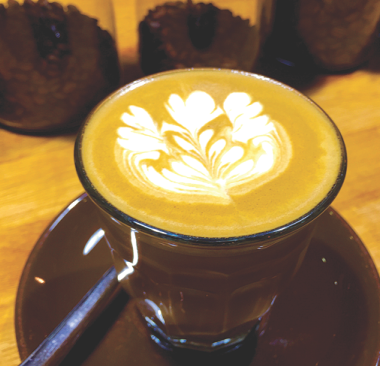 China's coffee-loving club is growing, but places that offer the flat white are few and far between. [Photo/China Daily]
Kangaroos, beaches and vegemite on toast - these are some of Australia's best-known icons. But soon another export could be added to the list, and if it's not on the tip of your tongue, it's because you haven't yet tasted it.
I'm talking about the flat white, the king of coffees - at least in Oz. It's the cup I contentedly clutched every morning walking into my office in Sydney, and the daily comfort I have sorely missed since moving to Beijing.
Reuben Mardan, the Australian Good Cafe Guide's best barista of 2014, describes the flat white as "a latte with less milk. The key is well-extracted roasted coffee with rich flavor which carries into smooth well-steamed milk".
But for me it's much more. A well-made flat white is sex in a sip: Latex-textured milk melts flawlessly into a double-shot espresso, giving you a potent coffee kick with a velvety finish. Decadent and strong, what more could a coffee nut ask from a morning cup of joe?
For those unfamiliar with our urban caffeine culture, Australians brandish their cups of coffee with the same pride as the Chinese do their flasks of tea. The habit took root with the influx of Italian migrants to the country after World War II.
But more than a habit - it's a necessity, it's social hygiene. It makes the drinker more pleasant to get along with in the morning, and thus colleagues and friends happier too. A true-blue Aussie win-win! And for many the flat white is first pick.
Sadly, many of Beijing's hip new cafes don't offer it. This devoted fan has been often forced to compromise with the usual frith-froth cappuccinos, acrid Americanos or much-too-milky lattes. But on the other side of the Pacific, patrons have had more luck. This year Starbucks introduced the flat white to its gazillion American outlets, saying it is "perfectly suited for the growing sophistication of today's coffee drinkers".
China's coffee-loving club is growing, but places which offer the flat white are few and far between. Here's what happened when I combed the capital for the best, separating the good from the bad with rankings on a scale of 10.