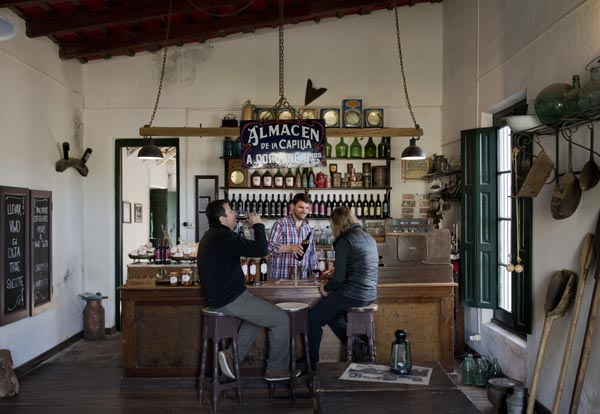 Tasting wine at Cordano AlmacŽn de la Capilla, the oldest vineyard in the region. Matilde Campodonico / Agencies
Our first lunch was laid out like a last supper. There, in the middle of a vineyard, underneath a billowing white cotton tent, a long wooden table had been set up, every inch of it covered with platters of food. There was the stuff you might expect at a picnic: bread, homemade and chewy; wedges of various cheeses arranged on wooden cutting boards; paper-thin slivers of prosciutto and salami. Then there were the local specialties-bowls of creamy spinach dip, stacks of freshly baked empanadas, stuffed with tuna and still steaming. And finally the wine, bottles of the heavy stuff this area was famous for and what brought us here in the first place.
We were eight that afternoon-my friends and I; our hosts Diego Vigano, his wife, Maria, and his father, Mauro Galeazzo; and, scampering around somewhere, Coco, the cherubic 2-year-old who had the run of the place. The setting was Posada CampoTinto, a gorgeous five-room boutique hotel set on a sprawling hill deep in the wine country of South America. It had taken an overnight flight (to Buenos Aires), an hour in a car (to the port), and three hours on a ferry across the Río de la Plata that separated us from Argentina. But as I took my seat next to Galeazzo, a dashing Italian gentleman of 87, I forgot my fatigue and concentrated on not stuffing all the food into my face at once.
"Welcome to Uruguay," said Vigano de Narvaez, raising his glass and looking around the table. "Our population just went up since you arrived!"
Uruguay has made some news lately-all of it indicative of a country that wants you to enjoy yourself. First, Uruguay beat out Argentina as the highest per capita consumer of beef, a real victory for the smaller country in this meat-loving part of the world. Last year, The Economist named Uruguay Country of the Year, partly for legalizing same-sex marriage and partly for becoming the first country to legalize the production and the sale of marijuana, saying that those actions have "increased the global sum of human happiness at no financial cost".
Sitting in the middle of the vineyard, surrounded by songbirds and a light breeze, it was hard not to feel the sum of human happiness in ways entirely unrelated to federal legislation. We were there to explore a nascent scene of great wine being made and the kind of easygoing, grassroots vibe that comes from small communities birthing their own tourism industry.