Currying flavor south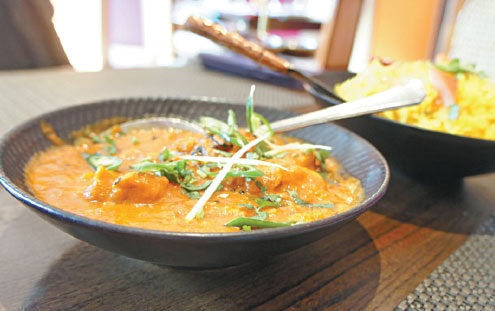 Vedas, a restaurant in Shanghai, offers several dishes that are specifically from southern India [Photo by Belle Taylor/China Daily]
South India had a special place on the ancient maritime trade route, and its spices continue to be an international favorite, Belle Taylor reports.
On the night a friend and I visit Vedas, routinely cited as being among the best Indian restaurants in Shanghai with a clutch of awards to prove it, about half the clientele are Indian - always a good sign. The smiling Indian waiter greets us at the door and leads us to our seats. The restaurant is decorated with sophisticated Indian-style furniture. Soft, pink lighting illuminates the walls, and the whole effect whispers understated elegance.
It is, no doubt, a slightly different setting than what greeted the sailors aboard merchant ships that sailed the maritime Silk Route centuries ago. When they landed at southern Indian ports, they were probably not immediately poured lemon-scented water and handed a wine list. Sometimes things change for the better.
The food of India boasts many regional cuisines, though beyond India's shores they tend to get lumped together. It also, not surprisingly, gets bastardized depending on where it ends up.
Vedas, we are assured, can offer us the real deal. But unfortunately, they have only a few dishes that are specifically from the southern reaches of India.
We start with samosas (30 yuan, or $4.75), a dish that actually originated in or near Persia - another significant stop on the Silk Road - but quickly spread to India. They are now closely associated with the Indian subcontinent. The samosas served at Vedas have a crisp but perfectly moist shell that gives way to a slightly spiced potato-and-pea filling. For mains we ordered the chicken Madras (68 yuan) and lemon rice with cashews (58 yuan).