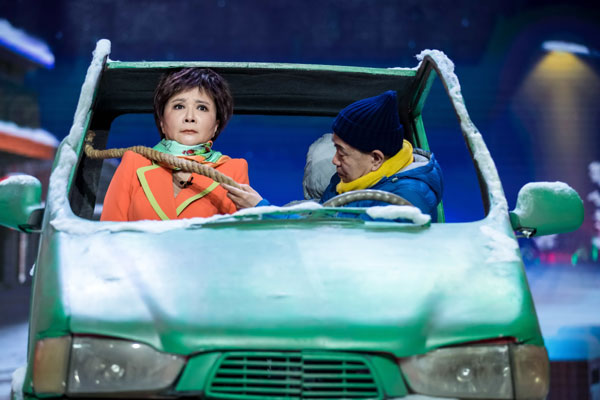 Cai Ming (left) and Pan Changjiang perform a controversial skit on CCTV's 2015 New Year Gala. [Photo/CFP]
The annual CCTV New Year Gala experienced a small drop in ratings this year, amid growing criticism some skits were highly offensive to disabled people, women and the southern Chinese.
The number of live viewers dropped below 700 million for the first time in a decade.
Socially aware Chinese viewers were angered by some content in the gala that they have accused of reinforcing discriminatory ideas, especially against women.
This growing dissatisfaction led to a feminist group to write an open letter to the country's top media regulator, demanding apology from CCTV while requesting as many as eight skits from the gala to be prohibited from ever airing again. However, they have not received any response from the TV station.
In one of the most criticized skits, a "nyuhanzi", literally meaning "masculine woman", had her life compared with that of a tall slender "goddess" to highlight the sad fact that she was ordinary-looking and still single at the age of 30. Another controversial skit suggested female officials exchange sex for promotions. The skits have also been accused of discrimination against short people, South China accents and the elderly.
The open letter started a heated discussion on micro-blogging site Sina Weibo. An online poll on Sina Weibo, in which 30,000 people voted, showed that 85 percent of people found that the gala is discriminatory. However, another poll launched by entertainment portal Netease.com, polled 33,591 people, showing that more than 69 percent of them believed the so-called discrimination is "over-stated".
"People's awareness of discrimination needs to be raised. They are used to it. I can understand that," says Lyu Pin, a well-known female rights activist who initiated the open letter protest.