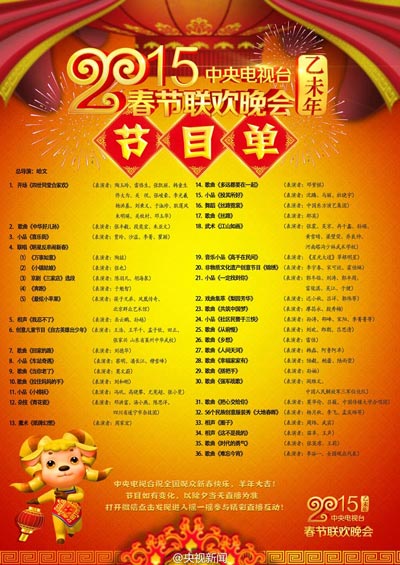 The program list of the 2015 CCTV Spring Festival Gala. [Photo/weibo.com/CCTV News]
China Central Television has released the program list for this year's Spring Festival Gala on its official Sina Weibo account this morning.
The list contains 36 programs, including four songs, one dance performance, three cross talks, seven short sketches, one acrobatics show, one magic show, one Chinese opera show, and four innovative programs.
The four innovative programs are a Chinese martial arts performance, a children-themed performance, a performance about intangible cultural heritages, as well as a fashion show featuring innovative costumes of its 56 ethnic groups.
One of the highlights for this year's gala is two cross talk shows and a short sketch on anti-corruption, two of which will be staged after midnight.
The gala will be staged on Wednesday evening, the eve of the Chinese New Year.
Related:
Documentary on China a hit in South Korea
Sneak peek of BTV's Spring Festival Gala
Share your Chinese New Year stories to win a smartphone!