Guts go for new glory as restaurant seeks modern appeal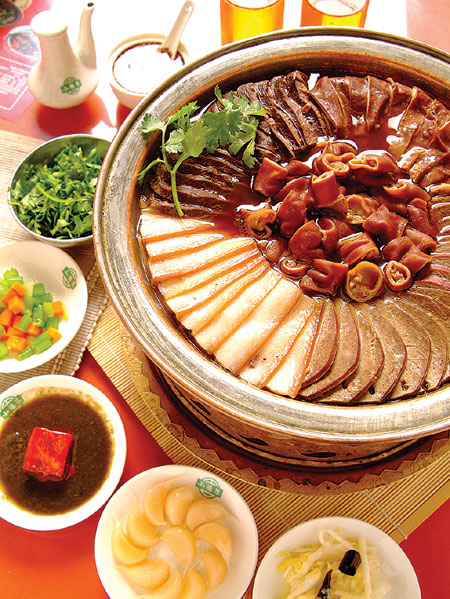 Beijing delicacy luzhu offered by Xiao Chang Chen restaurant remains popular among local diners. [Photo provided To China Daily]
Chopped-up pig intestines with wheat bread may sound repulsive - or like a very humble pie. But it's a traditional local delicacy in Beijing: luzhu.
It consists mainly of pig intestines and lungs, streaky pork, fried tofu and huoshao (baked wheat bread).
The ingredients need to be stewed for several hours, along with dozens of different flavorings that may vary with the seasons. And then all the ingredients will be chopped up and served with broth.
In the world of luzhu, Xiao Chang Chen restaurant is a time-honored brand. It is named after its legendary founder, Chen Yutian, who carried forward the family recipe and finally made it a trademark.
The eatery has survived and established its reputation in Beijing for almost 100 years, despite many ups and downs - and some challenges still ahead.
Today, more people worry about the high cholesterol, while others simply find it disgusting to eat pigs' guts. Young Chinese, especially the well-traveled, may be more interested in Western food than in dishes their grandparents ate.
In 1956, Chen Yutian started selling luzhu in a State-owned restaurant on Nanheng Street and kept it up until his retirement at the age of 75. This made the ordinary locale in the southwest of old Beijing the birthplace and synonym of luzhu for the natives.
"If you said you are going to Nanheng Street, you must be going for the luzhu there," a middle-aged man tells China Daily.