Food with flair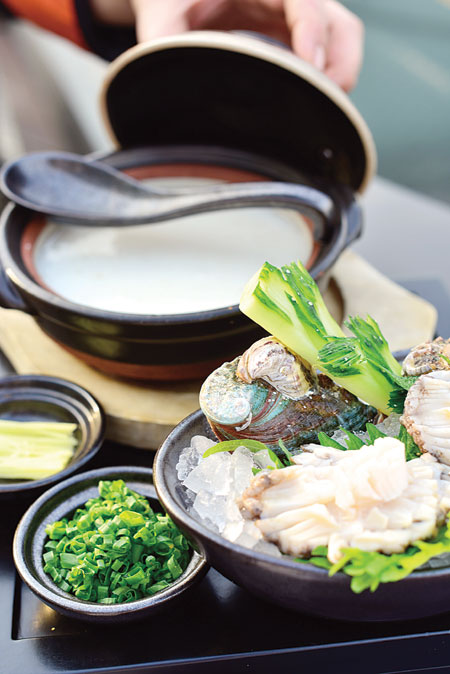 Silky smooth: The Malaysian seafood congee has delicate pieces of baby lobster and fresh abalone. [Photo provided to Shanghai Star]
When the winter nights are deep and cold it is comforting to know where you can put some fire in your belly. Pauline D Loh visits the highest supper club in Shanghai.
This is not your usual pub grub. The rice congee is silky smooth cooked so long that every grain has dissolved into a fine puree. Delicately cut pieces of baby lobster and fresh abalone are added to the steaming hot clay pot right before the diners.
Chef Ong Kian Tiong, the Malaysian-born cuisine master helming the kitchen at Flair, the Ritz-Carlton, Pudong, makes his mark on the unusual supper menu here.
The pair of congee offerings is part of a January promotion to attract the cold and hungry on winter nights. Indeed every delicious mouthful glides down the throat to warm the tummy so much that you will soon be glowing with warmth and pleasure.
The chef's native influences are also reflected in a special noodle dish that he has adapted from the average Kuala Lumpur coffee shop. This is "banmee".
Chinese diners may find similarities in the Shaanxi hand-cut noodles, but that is the only thing familiar. The stock is a rich broth brewed from tiny whitebait or ikanbilis. These tiny dried fish are harvested off the coast of Malaysia and often used locally to sweeten soups.
The chef's bowl of hand-cut noodles are long wavy ribbons covered with tasty fish stock. What gilds the lily is the pile of freshly deep fried whitebait on top. The soup is further sweetened by the addition of finely minced meat and garnished with tender mustard green shoots.
But, the dish that resonates most and puts true fire in the belly is the rich coconut rice popular throughout Singapore and Malaysia — nasi lamak.
This is where the chef shows his true colors.