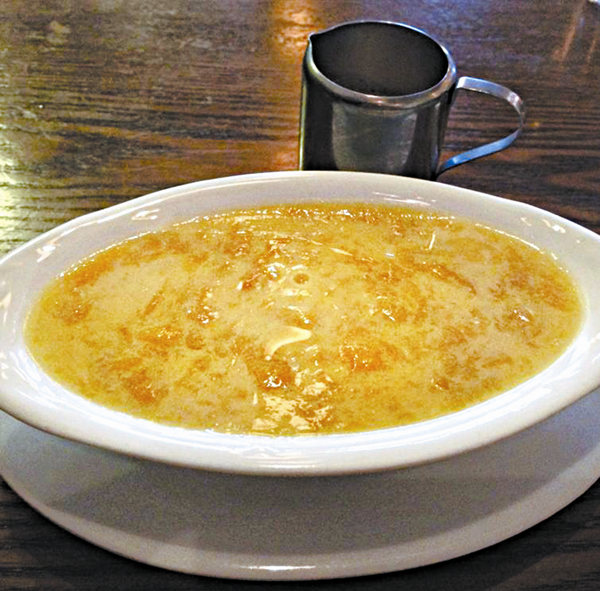 Mango pudding. [Photo/AP]
Beyond the casinos, both Portuguese and native cuisine awaits.
Macao is globally famous as a haven for gambling. Luckily, getting great food there is no gamble.
The Chinese region overtook Las Vegas in terms of gaming revenues almost a decade ago, cashing in on growing wealth in China and other parts of Asia. But on a recent visit, it was the food that impressed me. After a stroll through its Venetian resort, I discovered a cuisine that's a blend of the fragrant spices of Asia and deep earthy flavors of Africa, all crossed with a Portuguese flair.
Macao was a Portuguese enclave for four-and-a-half centuries and the last European colony in Asia in late 1999 when it was handed over to China.
Tucked away from the bustle of Macao's colonial downtown is Henri's Galley, a restaurant famed for offering some of the territory's most succulent dishes in a modern Western setting. The menu is like a trip to Portugal, where bacalao (cod) rules every meal. Henri's menu offers bacalao in a variety of ways. But the dish that gave the restaurant its reputation is galinha a Africana - African chicken.
But before plunging into that, I started with caldo verde, a light yet warming kale-and-potato soup that was especially welcome on a cold and rainy afternoon.
Soon, the African chicken arrived at my table and that's when the fireworks in my mouth began. The restaurant helpfully puts the list of ingredients of the dish on its placemats, the same list that was featured when Gourmet magazine offered the restaurant's signature dish to its readers in the early '90s. I found it helped my appreciation of the dish to be able to dissect the flavors.
My plate had half a chicken on the bone - a breast and a thigh - in addition to a firm boiled potato covered in the same luscious sauce as the meat. And it is that sauce that's the real marvel of this dish. It combines garlic, shallots, sweet paprika, gratedfresh coconut, peanut butter, chicken broth, pitted olives, bay leaves and oil. If this array of flavors doesn't bring your taste buds to their knees, I don't know what will.