Fine dining takes off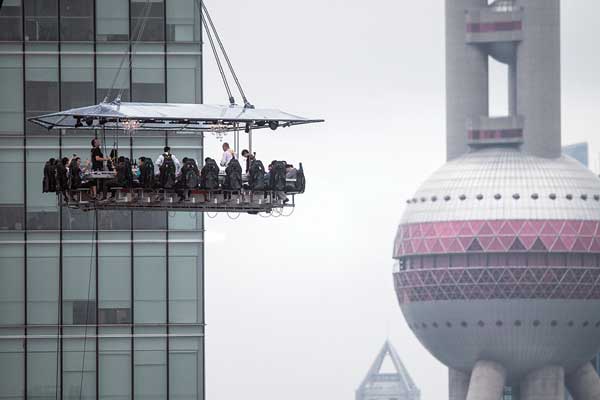 50 SHADES OF GREEN: Diners eat out at an altitude of 50m for the China premiere of Dinner in the Sky. [Photo provided to Shanghai Star]
Fancy viewing the skyline up close and personal? Matt Hodges experiences dining at new heights with Dinner in the Sky's hair-raising attraction.
It took four years of planning and preparation to bring Dinner in the Sky to China. The iconic images of a magic carpet of diners flying past the Oriental Pearl Tower should enjoy a longer shelf life online, unless they are trumped by similar images in Tibet or Beijing further down the road.
Last week the Four Seasons Hotel Pudong teamed up with the?Belgian brains behind this novel concept and their local partner, Events in the Sky (Asia) Ltd, for the China premiere of what amounts to a formidable public relations stunt set at 50m above terra firma.
"In the future we will mostly target corporate clients," says Damian Niesel, managing director of Events in the Sky (Asia), citing its suitability for product launches. It can be adapted to suit anything from weddings to golf challenges to mid-air symphonies. A second table can be added if necessary.
"We're looking forward to bringing Dinner in the Sky to the roof of the world, Lhasa, and near the Great Wall," he adds. "We operate on the principle of safety first, and then exclusivity, so we are deliberately moving slowly."
Seven of the nine flights on Friday and Saturday sold out, while most of the first day's itinerary was canceled due to the weather, according to the hotel.
In the end, picking Shanghai during the month-long "plum rains" proved a bigger gamble than considerations of safety and customer demand. It remains to be seen whether the formula will prove a hit if it returns to the hotel for a week in September, as planned.