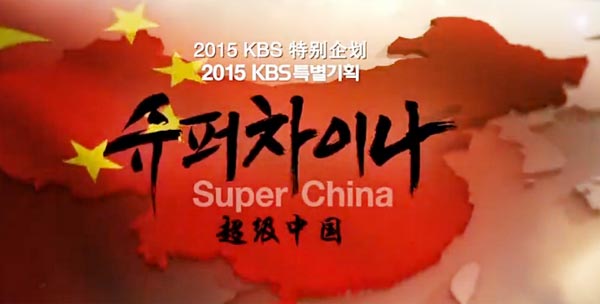 A screen capture of South Korean documentary Super China. [Photo/Agencies]
The seven-episode documentary, Super China, won hearts and ratings over 10 percent in South Korea and is praised as the "encyclopedia" for South Koreans to know China.
The special series, which aired from Jan 15 to 24, introduces China as a whole, covering demographics, economics, resources, geography, military diplomacy and cultural soft power. The ratings surpassed 10% for Super China, while average ratings for a South Korean documentary stand at around 5%, according to Xinhua.
"The high ratings show how much South Korean audiences are interested in China, and that we aired the series at the right time," producer Park Jin-hwan said.
Park, who worked as a journalist in China for many years, is among the three producers of Super China. The initial aim of production was to provide a "framework for deeper understanding on China," Park said.
"There were many publications and programs that introduced China, but none of them was comprehensive enough, so we wanted to do a more complete documentary to help South Korean audiences learn about China's past and presence," Park said in fluent Chinese.
"China's influence on the world is increasing as we speak. We have visited more than 20 countries, including the US, Argentina, Sri Lanka and Kenya, to give different perspectives on China from around the world," said Park.
Multi-national politics and international relations are major highlights of the program. The program also includes experts who talk about their take on the future of Sino-South Korean relations. Among them aree Professor Joseph Nye of Harvard University, who introduced the concept of "Soft Power", and political researcher John J.Mearsheimer of the University of Chicago. Views of politicians, businessmen and the public also are included.