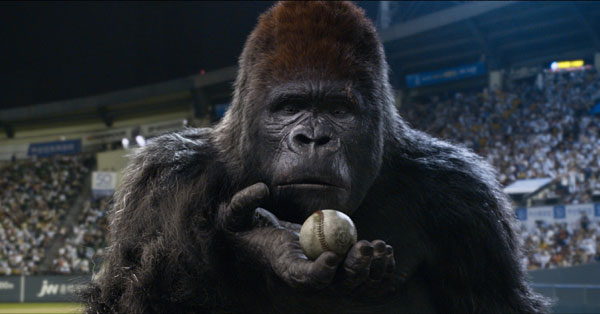 Sino-South Korean joint production Mr. Go. The two countries signed a film-coproduction agreement to promote closer bilateral ties in July.[Photo provided to China Daily]
Audiences await the fruits of a coproduction deal that's serving as an encouragement to filmmakers in China and South Korea. Wang Kaihao reports.
When Tang Wei recently stepped on the red carpet at the Busan International Film Festival that is still underway in South Korea, Chinese moviegoers had one more reason to take note of films from the neighboring country. The popular Chinese actress had just announced her marriage to South Korean director Kim Tae-yong.
In July, China's State Administration of Press, Publication, Radio, Film and Television, and the South Korean ministry of culture, sports and tourism, signed a film-coproduction agreement to promote closer bilateral ties.
Bad Sister, a romantic comedy directed by Kim Tae-gyun, will be screened in China in November. The film is about a Chinese astrologer's efforts to halt the wedding of his brother to a Korean woman and will be the first joint production released after the agreement was signed. Most of the work on the film had been carried out earlier, though.
"We had initially wanted an exotic story that involves someone like an Arabian prince," says Ji Erwei, a Chinese producer of Bad Sister. "But finally we chose a South Korean background, which is easier for shooting schedules, and the result may also be closer to Chinese audiences' tastes. South Korean soap operas have been very popular in China."
Since he had worked on the coproduction prior to the official policy announcement, Ji considers the bilateral treaty as more of an encouragement.