A seasonal preoccupation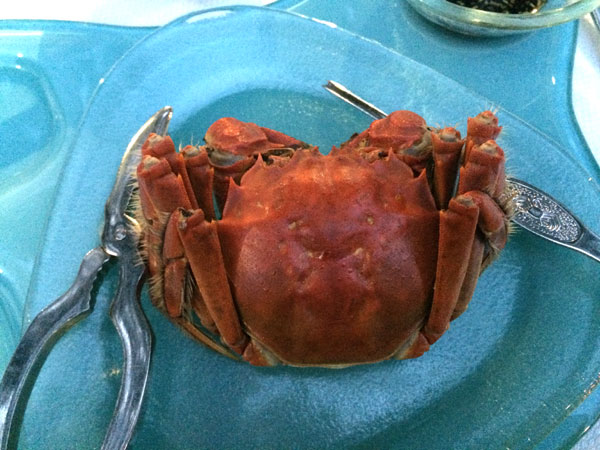 Specially crafted crab-eating utensils are designed to let the diner enjoy his crab to the fullest.
A few decades ago, the hairy crabs of Yangcheng Lake were abundant, wild and free. Today, they are mostly bred in captivity and eager gourmets place orders before the season even begins. Pauline D. Loh traces the genesis of this culinary obsession.
They are a curiosity - fresh-water crabs with claws coated with a pelt of "hair". Because of that, eriocheir sinensis is also known as the mitten crab. It is a seasonal phenomenon and a food fad that has become an environmental concern.
Pollution is the main problem. When the crabs were still a part of the natural ecosystem, they foraged among the weeds and aquatic plants of the lake, finding their own place in the food chain.
Today they are bred in enormous numbers in closely guarded rafts with cages suspended in water. Captive, they can no longer look for food on their own, so they are fed pellets of formulated feed.
It is this feed that is muddying the waters, raising environmental and food safety concerns.
"Of course we worry about what is happening to Yangcheng Lake. Some unscrupulous people feed the crabs stimulants to make them grow faster and the uneaten pellets dissolve and pollute the lake," says Song Ping, 37, a villager who has lived in Kunshan, Jiangsu her whole life.
Her family has been lakeside smallholders for three generations and she now helps at an organic farm run by the Kunshan county government.
Song says when she was a child no one paid much attention to the hairy crabs. They were the fattest with milt and roe after the Mid-Autumn Festival around mid-September.