Culinary indulgence in Xi'an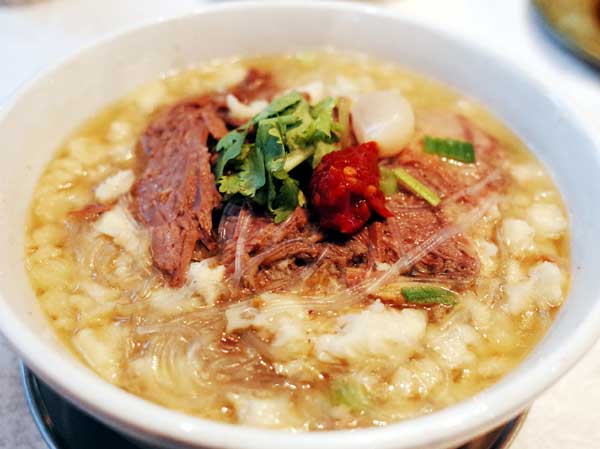 One of famous foods in Xi'an [Photo by Fan Zhen/chinadaily.com.cn]
Good food is a mini cosmos itself, a place where flavors combine well with textures to create a generally pleasing sensation. A good meal sometimes contains more. Not only does every dish require ingredients nicely balanced in proportion, the interactions among different dishes also decide if the symphony on the taste buds is a complete success.
During the trip to Xi'an, we found ourselves constantly surprised by the local street food. The diversity fascinated us, but most of all, each meal seemed a complete experience of a good meal, every dish complemented each other and came with a story. By tasting each signature dish, we learned more about the food culture and thus glimpsed into the locals'daily lives, shaped by the ancient capital's long history.
One of the famous foods one should not miss is Yangroupaomo. What makes it unique in Xi'an is that everybody can make their own paomo, the steamed bun, because it is part of the authentic dining etiquette.
Our guide took us to a locally famous restaurant and the waitress handed us a round paomo and told us to pull it into small cubes according to our own preferences. If you like it soft and mashed, try to make it as tiny as you can. Do the opposite if you enjoy the chewiness.
People do this partly because the meal will be more interesting when they make their food together and chat while doing so. It is equivalent to people waving and saying hello to each other on the street. This is another way of warming up friendship over the table.