Dinkum down under food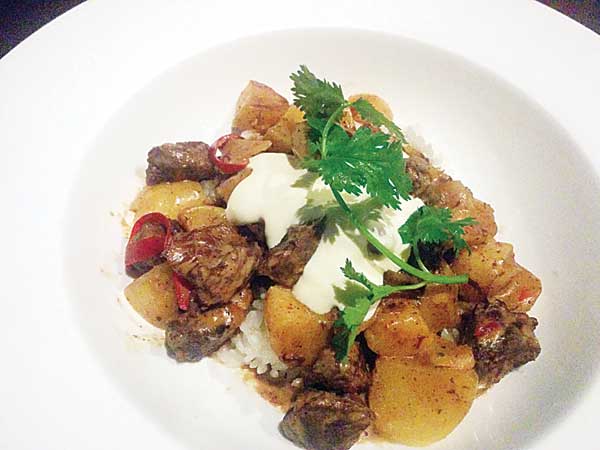 GAME ON: Kangaroo vindaloo (left) joins crocodile and emu on the menu. [Photo by Matt Hodges/Shanghai Star]
Kakadu is exotic, esoteric and a nice little bubble for expats in frenetic Shanghai. It's an Australian eatery you'll be making a walkabout back to in no time. Fair dinkum, says Matt Hodges.
Named after an Australian national park boasting scenery reminiscent of the hit 1980s flick Crocodile Dundee, Kakadu is a classy Australian restaurant with a speakeasy vibe that caters to steak-guzzling gourmands and alligator wrestlers alike.
If your heart's set on exotic fare from emu carpaccio with pickled beetroot to kangaroo vindaloo and grilled crocodile, look no further. The kangaroo burger is also available, to appease funky fast food lovers.
Fancy an apple rhubarb daiquiri or world-class mixed-berry smoothie? No worries, mate. If you're feeling as dry as a dead dingo, they'll put you right. Kakadu reportedly has the most extensive Australian wine list in town, ridiculously good grass-fed tenderloins and Tomahawks, the chunkiest Chicken Caesar salad this side of the Roman Empire, lots of ridgy-didge aboriginal artwork hanging on the walls, and very charitable prices. The owner must have quit Oxfam to take up this gig. Kakadu opened in 2007.
It also does a cheeky range of weekly specials: 108 yuan for Monday night's mussel mania buffet, with sauces ranging from tom yum to orange sauce and spicy coconut; Sunday's throw-it-on-the-barbie buffet is 128 yuan. That is just the beginning of the list.
Kakadu is like Cheers crossed with a Down Under-themed amusement park. Come here once and the smart money says you'll be back. Just ask the scores of regulars and bar flies who hang out because they like the lounge chairs, the huge fish tank behind the bar, and because the place makes you feel more at home than the Starbucks next door.
The restaurant is split into several zones that one reporter cleverly identified as its "lagoon" (fish tank-backed seating area), "desert" (another dining area with ocher walls and a glass roof) and "rainforest" (the small garden out back). Queensland-born owner James Sing never planned it that way. He's just an accidental artiste.