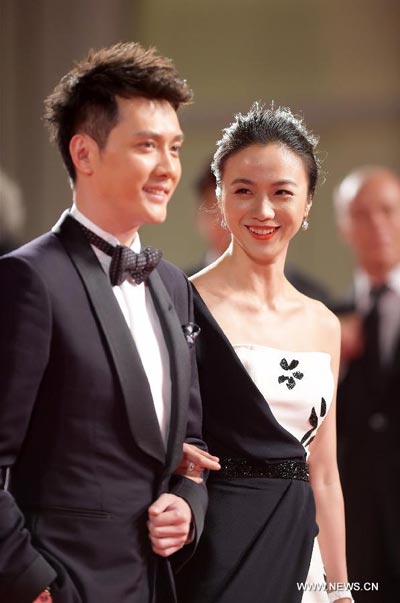 Actress Tang Wei (R) and actor Feng Shaofeng pose on the red carpet for the awards ceremony at the 71st Venice Film Festival, in Lido of Venice, Italy on Sept 6, 2014. "The Golden Era" directed by Ann Hui was screened as the closing film for the festival. [Photo/Xinhua]
Chinese film fans may have opportunities to make small profits while watching a movie as the first film investment product for the public in China went online on Sunday.
The online investment product, launched by Internet giant Baidu, Central Picture Corporation and CITIC Trust, will allow investment of as little as 10 yuan ($1.63) with yields based on the box office.
Buyers will also have a chance of receiving bonuses ranging from free tickets to customized videos.
Li Zimin, general manager of the trust company, described the product as a combination of the film industry and consumer finance and said it will be positive for both sides.
The Golden Era was the first movie selected for the investment product.