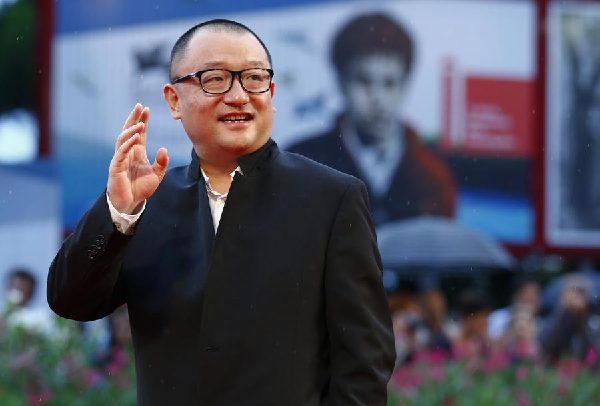 Director Wang Xiaoshuai attends the red carpet for the movie "Chuangru zhe" (Red amnesia) at the 71st Venice Film Festival September 4, 2014. [Photo/Agencies]
TORONTO -- Chinese filmmakers need to make more serious films that reflect China's reality so as to establish themselves both in the domestic and international markets, said Chinese director Wang Xiaoshuai.
His latest film Chuangru zhe (Red Amnesia), joining the Toronto International Film Festival this week for its North American premiere, is a prime example.
The disturbing and edgy thriller is laid in the ever-evolving contemporary China and depicts the story of Deng, an elderly woman who is shut out by her two sons.
The ghost of her recently deceased husband is her only company. But as she goes about her daily routines, a menacing presence emerges and throws her off.
Underneath all the layers was a story about generational displacement and the impact the Cultural Revolution still has on China till this day.
"Through the heroine, I wanted to bring out people's deepest conscience," Wang explained to Xinhua in an interview.
These types of films don't necessarily fare as well in the domestic market as it does internationally. But Wang said he specifically made it with the domestic audience in mind. His hope is to educate the younger generation with his work.
"The young generation know less and less about history, so we need to do some work with movies. In fact I pay more attention to the domestic audience," he said.
While China is hailed as the world's second biggest movie market in the world, Wang believes there's still a lot of work to be done.
"The whole world is looking at Chinese market, but what we need to do is to try our best to understand it and make it best," he said.
He believed there's a lot of space for Chinese films to grow domestically and the key to gaining international success lies in focusing on China's reality and reflecting people's lives as well as emotions.
"The filmmakers, including directors and producers, can not just eye the box office, they should be responsible to provide more choices for the audience," he said.
Wang's film is one of the 12 films from China that were screened at the 11-day festival in Toronto this year.