The 13th 9/11 anniversary has just passed. People around the world mourned the lives lost on Sept 11, 2001. We should also remember that the event also resulted in the loss of art, whose scale in the destruction of the World Trade Center was extensive.
The value of the lost art was estimated at $100 million from private collections and $10 million in public art.
In addition to the fantastic art listed below that was lost to the world forever, reports have also noted that works by Spanish art master Pablo Picasso, English painter David Hockney, and American pop artist Roy Lichtenstein are believed to have been lost.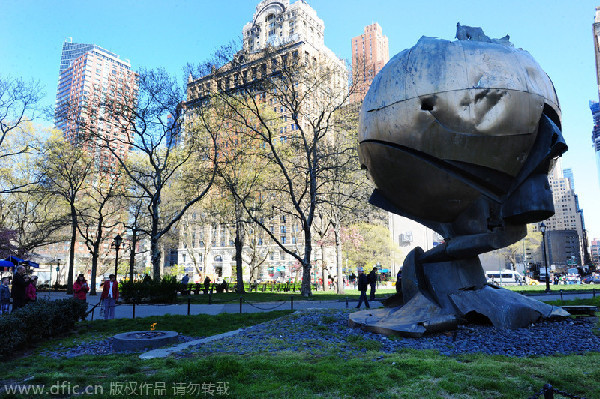 Perhaps the best known piece of art from the WTC is The Sphere, a large rotating metal sculpture by German artist Fritz Koenig, which was placed in the plaza in 1971 in time for the opening of the towers. It survived although it was badly mangled in the 9/11 attacks. Six months after the attack, the sculpture was moved to Battery Park, where it remains. [Photo/IC]