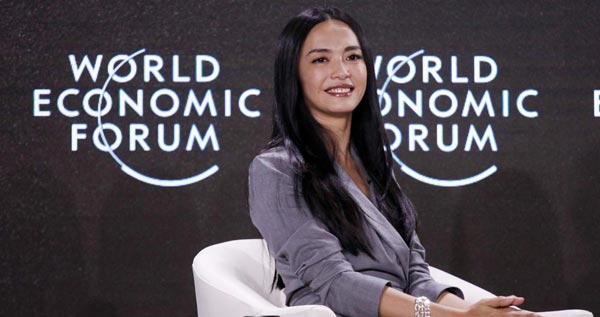 Chinese actress Yao Chen shares how social medial changed her life during World Economic Forum in Tianjin on Sept 10. [Photo/Agencies]
Chinese actress and UNHCR Goodwill Ambassador
Yao Chen
 shared how social media changed her life during the World Economic Forum on Sept 10 in Tianjin.
During a session titled An Insight, An Idea with Yao Chen, the "Queen of Weibo" surprised the audience by saying that aside from updating her Weibo account, she is not tech-savvy at all. She rarely opens her email account, doesn't do online shopping and lives a somewhat "ancient" life.
"All of a sudden, I met all these interesting people through the platform Weibo provided. Many worked in fields other than showbiz and their conversations truly opened up my horizon," said Yao.
With her rising number of followers (more than 73 million as of today), the actress felt the power and pressure from social media. Among the praises and criticisms, Yao learned to use the platform as a tool for philanthropy.
"Gradually, I discovered that Weibo, as minute as it may be, can gather strength when joined with others. On it, I can spread information, such as those on rescue teams after the quake at first instance. I also once reposted a thread to help others sell potatoes."
Yao said she learned to filter out information over the years. Now, she only reposts threads from reliable sources and chooses to help those in need of immediate help.